Today The View introduced its new logo, new set, new opening song and, of course, three new hosts – Rosie O'Donnell, Rosie Perez, and Nicolle Wallace and welcomed back  Whoopi Goldberg as moderator.  The premiere of the 18th Season began with the hosts paying tribute to the queen, the show's original co-executive producer, Barbara Walters.  Barbara sat on her throne off-stage (literally, she sat on a throne) as each host kissed her ring before they went on set.  At the end of the bit she joked she was promised a crown, an off-camera hand suddenly supplied her one, she put it on and introduced the show.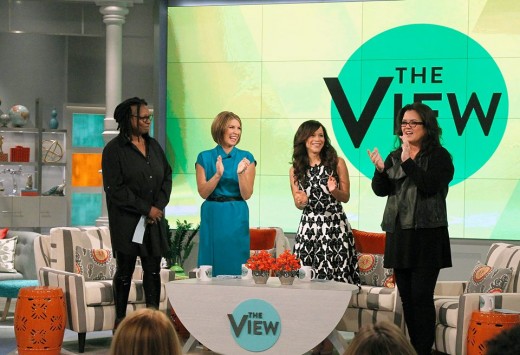 Getting to know you!
Rosie O. mentioned her new marriage and new baby, Dakota.  She said her eldest son Parker started college this fall and she touched briefly on her recent heart attack and her 50 lb. weight loss that she attributed to gastric sleeve surgery.
Rosie Perez mentioned that she will soon be co-starring on Broadway in Larry David's play "Fish In the Dark." She also has a new memoir out and was recently married to contemporary artist, Eric Hayes.
Nicolle Wallace, who admitted she only found out about 10 days ago that she was chosen as a fellow host of The View, confessed proudly that she's the sole Republican on the panel.  Her experience includes serving as communications chief for the George Bush White House and working on the 2008 campaign trail with John McCain and Sarah Palin. Since then Nicolle said she's been busy writing novels, working on Morning Joe on MSNBC, and raising her two-year-old son.
Whoopi Goldberg, who has returned to the show as moderator, said since the show was last on air she's lost a little weight and has been spending a lot of time with her great-granddaughter, Charlie Rose.  And of course, she was carrying on The View tradition of rockin her crazy shoes.  Take a look back at some of Whoopi's insane shoe collection from show's past!
Hot Topics
Ray Rice and domestic violence: The panelists discussed recent headlines of domestic violence surrounding NFL players, and more specifically, Ray Rice's indefinite suspension from the NFL for domestic abuse and his plans to appeal.  The ladies talked about how the release of the TMZ video reignited the case as well as the discussion about domestic violence and violence in professional sports.  Rosie P., a huge professional boxing fan, briefly discussed Floyd Mayweather, Jr.'s history with domestic violence and the panel weighed in on the recent allegations of child abuse against football star, Adrian Peterson.  This in turn sparked a debate over the difference between abuse and discipline.
New stars in the sky: The panel briefly touched on the stars that we've lost this year including Robin Williams and Joan Rivers.  When Robin was mentioned Rosie O. touched on her own battle with depression and how she hopes these discussions will help to de-stigmatize mental illness in this country.
Will Hillary Clinton run? Nicolle said she had absolutely no doubt that she is indeed running for office.
Icebreaker games:
Ro or Ro? An audience member was told a quote or tidbit and had to guess which Ro owned it. Despite the fact that she got almost every question wrong, she still won a Huawei smartphone and so did the entire studio audience!
Ask me Anything: Nicolle fielded questions from the panel.  When asked what was one of her biggest struggles she ever had while working at the White House Nicolle referred to Dick Cheney's hunting accident and the challenges that went along with breaking that news to the White House Press Corps.  Rosie P. asked Nicolle about her tumultuous relationship with Sarah Palin during the 2008 presidential campaign.  Nicolle said her working relationship with Sarah was irreparably damaged after the now infamous Katie Couric interview.  In the end, Nicolle said Sarah blamed her for the bad interview and setting her up to fail.
Lastly, Tony Award winner Kristen Chenoweth sang Borrowed Angels in honor of Joan Rivers who had been a guest of the show 34 times!  The panel ended the show fighting back tears and remembering the legendary comedienne.
And that's what you missed!