Today our hosts walked out to a standing ovation for Rosie O's last day!
Hot Topics: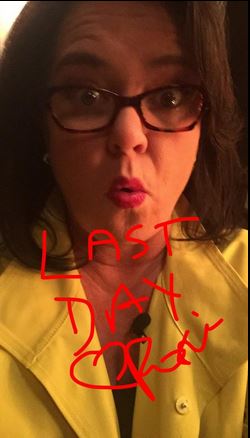 Dropped Anchor: NBC is erasing all evidence of Brian Williams from their nightly news ads.  Rosie O thinks if the ratings suffer they'll put him back on the air after his six month break but the decision for the network, in the end, is really about money.  Nicolle thinks the whole situation is sad and it depresses her greatly.
Loss of a Legend:  The world of news lost a great journalist. Bob Simon, of 60 Minutes, was killed in a car accident last night in New York City.  Whoopi said he was one of the few real journalists left and an extraordinary man.  Rosie P said Bob's last broadcast was about the movie Selma and the civil rights movement.  She sees his death as a huge loss.  Nicolle read off some of Simon's credits including his 27 Emmy awards, a Lifetime Achievement Award in 2003, and 4 Peabody awards.  Bob was a correspondent on 60 Minutes for almost 20 seasons!   Whoopi sent the family condolences from everyone at The View.
Woman in Charge:  Former Sony co-chair Amy Pascal opened up about the hacking scandal that exposed her unflattering emails about Hollywood stars.  Pascal said she felt completely out of control and at the same time, it was very freeing because there was truly nothing she could do.  But she said she felt really bad.  She also said it's hard to tell celebrities the truth because they are "bottomless pits of need."  Nicolle thinks maybe Pascal shouldn't have said those things if she felt bad.  Rosie P believes being a producer is a tough job and yet also thinks it's crazy that Pascal is the only one that "took the fall."
Dressed to Thrill:  A mother of 2 from Arizona decided to let her 3-year-old son pick out her wardrobe for 5 days and she posted the results on her blog!  They all thought the outfits picked out by her 3-year-old were pretty cute!  Nicolle really liked how the blogger allowed her child to be the decision maker for a change.  Rosie O said some kids are born with a definite sense of style.  Three of her kids don't care what they wear and two are very picky about their wardrobe choices.  Whoopi's grandson used to have to wear his Lakers uniform under every outfit!  He's 16-years-old now, so he's not doing that anymore.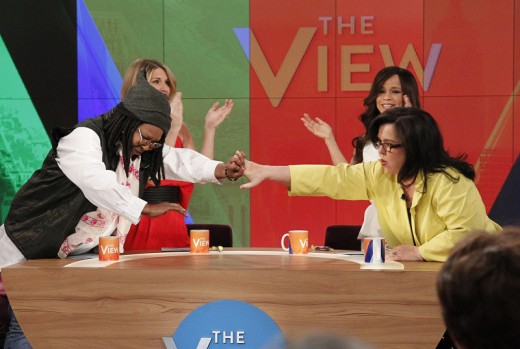 How the West Was Shunned:  Kanye West is speaking out about the comments he made about Beck and his stage rush on Grammy night.  He claims the voices in his head made him do it.  He said it started out as a joke but he had to be true about his feelings about Beck beating out Beyoncé.  He said he does respect Beck as an artist.  But Rosie O said it's fine that Kanye is correcting himself now, but that's not what Kanye said originally.  Rosie O half-jokingly said she thinks Kanye has social anxiety disorder issues that cause him to act inappropriately in public.  She thinks he has to learn the difference between his inside voice (what to keep to himself) and his outside voice (what he chooses to share with the public/media).  Rosie P thinks, at the end of the day, Kanye is a good guy because he did the same thing to Taylor Swift and now they're collaborating on projects together.  Whoopi agreed and doesn't doubt that in three years he'll probably be collaborating with Beck!  Nicolle thought what Kanye did was rude but she did admit after the awards show, she downloaded his latest song with Paul McCartney and Rihanna.  Rosie O still thinks Kanye is a genius and that his lyrics are poetry.
That's a Stretch:  A Montana lawmaker wants to make it illegal for people to wear yoga pants.  He wants to expand indecent exposure laws to ban any garment that gives the appearance of, or "simulates" a person's buttocks, genitals, pelvic area or nipples.  Rosie P thinks he's going to have to ban a lot more clothing than just yoga pants!  Whoopi said she's the only one whose nipples can be seen in her yoga pants!  After there was a debate over whether men wear yoga pants Nicolle said she doesn't think there are any men wearing yoga pants in Montana and she said as a Republican, she would like them to drop this issue.  Nicolle thinks any Republican legislating what kind of clothes people should wear is a loser.   She said look away if you don't like it!
Angelman Syndrom Day: Sunday is International Angelman Syndrome Day and Colin Farrell, whose son suffers from this condition, will be a guest on The View in March.  Go to AnglemanSymdrome.org to find out more information.
Family Feud:  On a recent episode of Family Feud they surveyed 100 people and asked, "Name something a doctor might pull out of a person."  The contestant said "a gerbil."  The hosts were basically speechless and they went to commercial.
Viewcation Winners:  Nicolle announced the next winners of the Viewcation Caribbean cruise!  An adorable couple won a 7 night cruise courtesy of Celebrity cruises! Enter to win here.
Guests:
Kenan Thompson:  SNL's Kenan Thompson stopped by the show to talk with the ladies about  Saturday Night Live's 40th Anniversary Show that airs Sunday, February 15th on NBC!   Kenan said it's going to be a spectacular 3 hour live special with tons of famous celebrities.  He said he's most excited to work with Eddie Murphy whom he remembers watching with his father.  Kenan is the longest running cast member currently on the show and this is his 12th season!  There are rumors that he might be leaving but he said he's not going anywhere.  Kenan does a really good Whoopi impersonation too and they asked him to do a little of it.  Kenan is married and has a little baby at home.  He said, new parents are really welcomed into "the club" by other parents when you have a child.  But, he said, there are two kinds of people in the world, those that don't have kids and those who do that can appreciate not sleeping.  Tune in Saturday Night's Live's 40th Anniversary Show this Sunday, February 15th at 7pm EST. (after you watch Rosie's standup special on HBO on Saturday night, of course!!).
Flo Rida: Flo Rida joined the ladies for a musical performance!  He talked with them a little about what it was like growing up with SEVEN sisters!  He said his sisters were very protective of him and it's helped him understand women more.  But he thinks every woman is different.  He collaborates with a lot of artists and he said he'd love to work with Beyoncé someday.  Flo Rida performed GDFR, Going Down For Real, for the audience.  The song 'GDFR' literally was just certified gold by the Record Industry of America (which means that over a half a million copies have been sold) so the ladies presented the gold record to Flo Rida on the show.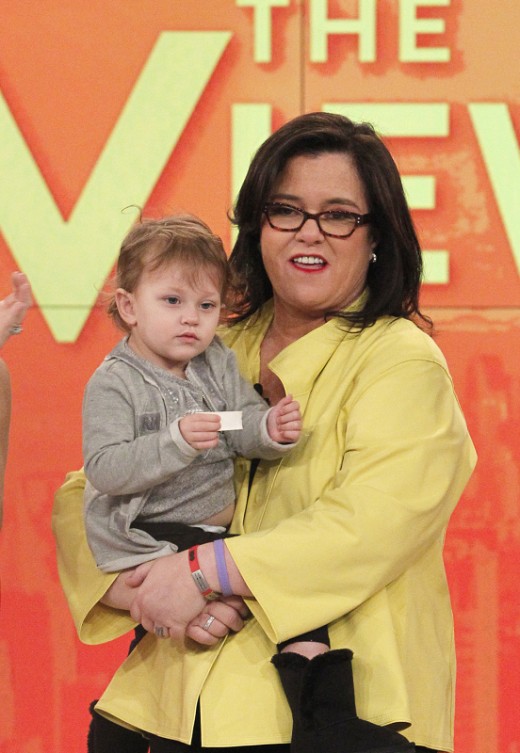 Goodbye from Rosie O:  While holding her daughter Dakota, Rosie thanked the cast and crew at The View.  She gave a special thanks to Barbara Walters whom she said has always looked out for her, in her life and her career. Rosie called Barbara "an amazing woman" and said they had lunch yesterday.  Rosie thanked Walters for creating the show and letting her host in 2007 again this past year.  Rosie said she's had fun and looks forward to having more!  She said she hopes to come back to The View and do an occasional crafting segment because she has a "hot glue gun and will travel!"  She reminded everyone to watch her special A Heartfelt Standup which premieres on HBO this Saturday night at 10pm.  Also, watch for Rosie on the Dr. Oz show tomorrow, Friday, February 13th, on ABC!
Take a little time to enjoy your view.
xo