Today on The View Rosie and Nicolle were joined by the fabulous Mario Cantone and the incredibly stylish Stacy London!  Whoopi was home resting her back for another day and Rosie P will be back February 3rd!
Body Beautiful:  Stacy thinks Rosie needs to wear brighter colors because she really believes color effects one's mood.  And Stacy complimented Mario on his blue shirt.  He thanked her but said he didn't get the "gay fashion gene."  His husband picked out his outfit for him today.  Mario joked that he tends to go for black…men, oops he meant clothing.  The panel discussed the day when Rosie wore a dress on The View.  She called it traumatizing but promised to do it again on Valentine's Day and again on her birthday!  Stacy referred to the term "weight whiplash" when someone loses weight and it takes time for the brain to catch up to your body.  She said it works in the same way when you gain weight too.  Before Rosie had her surgery, when she would gain weight she wouldn't see the difference in herself until she saw a photograph of herself.  Stacy said people wear black because they think it makes them look slimmer but in fact, that's not true.  Nicolle thinks perhaps one of the good things Kim Kardashian has contributed to society is a greater acceptance of having a big behind.  Mario said he used to be a chunky child and he believes those memories have stayed with him his entire life.  Stacy said Freud said the way we feel about our physical body is closely connected to our self-esteem.
Next week, they're going to have on Rosie's doctor who performed her gastric sleeve surgery to explain what it entailed.  The surgery was literally a life-saver for her as she had a heart attack two years ago.  She has lost about 60 pounds since the surgery and said she feels so much better and has more energy!  However, she does feel vulnerable sometimes.  The day she wore the sexy dress on The View she had therapy after the show and the entire therapy session was about how she felt in that dress.  The therapist asked her if she felt sexy in the dress, which she did not.  But she felt like everyone else thought she looked sexy and that made her uncomfortable.  Mario said he feels uncomfortable when another gay man flirts with him.  Nicolle feels it's a greater compliment when a gay man praises her on how she looks than when a straight friend does it.  So, Mario and Rosie both piled on the compliments for Nicolle.  🙂
Nice Try: This is the week when most people break their New Year's resolutions, especially the ones regarding exercise.  Rosie's resolution was to do yoga and so far, she's done it only twice.  Mario was going to work out more and it wasn't until two days ago that he started doing it.  Stacy didn't make any resolutions, she said she puts enough pressure on herself already.  Nicolle's resolution was to make all the medical and dental appointments she's been putting off since she started the program back in September.
Performance Anxiety: Rosie was supposed to take her kids this weekend to see Linkin Park.  Her teens love the band but she didn't really know much about them.  The concert was supposed to be Sunday night in Brooklyn but she's found out the best news, one of the guys in the band broke his leg!  The concert was canceled and she was relieved!  She told her kids she was going to tell that story on the show and Chelsea asked her to give her 30 minutes to actually sit and listen to their music before she goes out and bashes them.  So Rosie did and she thought it was actually really good music!  Stacy said there's even a nail polish named Lincoln Park After Dark.  Rosie said her kids don't want to go to Barry Manilow with her so they each have to make exceptions for each other sometimes.
Lucky Dog:  There is a dog that currently gets a $100,000 a year allowance.  She's treated to lavish shopping sprees and is set to inherit $1.8 million from her owner who considers her the daughter she never had.  Nicolle said, as the person at the table who probably has the most inappropriate relationship with her dog, "The dog doesn't need the money!  Find a human!"  She thinks the owner should give the money to a charity or to a person who really loves dogs.  Rosie thinks it's all just really a message to her sons.  Mario said it's very "Joan Crawford" of her.   
Kale No: A new Zagat survey of food trends claims that kale and bacon are over.  Mario hates kale so he said, "Hallelujah!"  Nicolle agreed.  She said there is nothing you can do to kale to make it "not taste like dirt." Stacy's sister is a nutritionist and says that kale has a lot of nutritional properties but she calls kale "the Kim Kardashian of vegetables."  Kale gets all the publicity but there are many other dark leafy greens that are very nutritious.  Rosie likes putting kale in the oven and making kale chips.  Mario said Rosie stole that idea from Barbra Streisand and he did a hilarious Barbra Streisand impersonation which sent Rosie over the edge!  Rosie told Mario to never impersonate her Barbra in front of her and Mario said, "No one loves Barbra more than me!"  Rosie asked Mario when Barbra's birthday is and he didn't know!  Then the duo broke out into Don't Rain on My Parade and went to commercial.
Rosie's Crafty-U:  Rosie and Mario made sand candles together! (<—–click to watch the video)  Mario said now that they've done a craft segment together he wants to do a baking segment entitled "Master-baking with Mario."  He said he's the greatest master-baker in the country!  Rosie was surprised!  No one ever told her he was a "master-baker" before.  Think you have what it takes to make it into Crafty-U?  Tweet pics of your masterpieces to The View or post them on Instagram using the hashtag #RosiesCraftyU. Or go to their website and maybe you'll get the chance to come on The View and craft with them!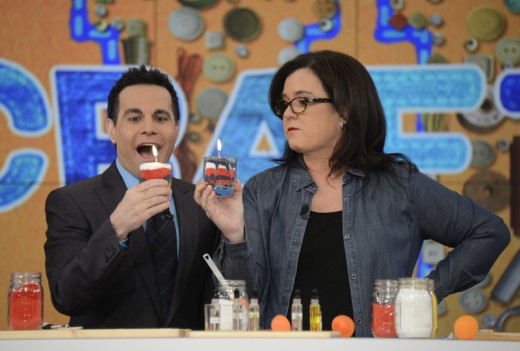 Joshua Malina: Scandal's Josh Malina joined Nicolle, Rosie and Stacy to discuss the latest scoop about the series. Even though Olivia Pope disappeared on the final episode of last season, most would assume since she's the star of the series  she will return!  But Rosie said the series Game of Thrones ruined that concept for her forever when they killed off one of their major stars.  Rosie and Josh discussed their mutual friend Dan Bucatinsky who won an Emmy award for his role on Scandal and then was killed off!  Josh joked if winning an Emmy has any thing to do with being killed off, he will always be safe.  Josh is also a good friend of Aaron Sorkin, whom Nicolle adores.  Josh and Aaron worked together in A Few Good Men and The West Wing but he said he's a true Broadway boy at heart.  He knew from the first Broadway show he ever saw that was what he wanted to do.  Rosie said the same thing happened to her when she saw her first Broadway performance.  Scandal will be back next Thursday (1/29) at 9pm on ABC!  Don't miss it!
Documentary Filmmaker Sherri VandenAkker:  Millions of women in America are battling alcoholism right now, many of them in silence.  My Name Was Bette: The Life and Death of an Alcoholic is one woman's story of how alcohol shaped her life.  Sherri VandenAkker, the filmmaker, joined Rosie in a personal one-on-one interview to discuss how her mother's alcoholism affected her.  Rosie told Sherri she was moved by Sherri's courage, strength and ability to forgive.  Sherri said her mother's death was tragic and shocking and yet she knew she was going to die from alcohol eventually.  She really wanted to bring some meaning to her death and she wanted to get a sense of who her mother was before the disease of alcoholism completely destroyed her mom.
Sherri said growing up, she knew there was a lot of anger and tension in her house but she didn't really know why.  The most powerful piece of healing for Sherri came when she could separate her mom from her disease.  She was able to get angry at the disease and stop directing the anger at her mom.  She said her mother had dreams for her daughters and she had dreams for herself but the illness took all of that away.  Her mom once told Sherri it was easier for her to stay drunk than to get sober and face the things she did when she was drunk.  Sherri said it took her a long time to get to the place of forgiveness with her mom.  She had to come to terms with her own depression and anxiety and realize her mother was really self-medicating.  She had to come to the conclusion that her mother wasn't the disease but that she had the disease and the disease was winning.  It wasn't until Sherri realized how many things she values about her own personality and her own dreams due to her mother, that she could she be grateful to be her daughter.  Rosie loved the documentary and said Sherri shined a light on alcoholism in women and also on the peace that can come with forgiveness.  You can watch My Name Was Bette HERE on Amazon Prime.
Closing Statements: Stacy London's Love Lust or Run premieres on TLC Friday January 23rd at 9pm!  Mario is hosting the 2015 Steve Chase Humanitarian Awards: Imagine a World Without AIDS, in Palm Springs February 7th!   
Take a little time to enjoy The View!
written by Kelly Weist
KidRo Productions