Today The View welcomed back Rosie Perez!!!
Rosie P got a standing ovation at her preview of Fish in the Dark, her new Broadway show at the Court Theater starring Larry David!  The ladies welcomed her back with warm smiles and open arms and Nicolle told her they were "saving her seat for her."
Hot Topics:
Pitbull Party: Republicans are making a play to have Cuban American Pitbull join their campaign. Rosie P said he is a very important person and this is about both his popularity and the fact that he is a very prominent Latino businessman.  She doubts the attempt will work as the Republican Party is anti-immigration. Rosie O said, "Good point." Nicolle reminded that Jeb Bush has a more enlightened stance on immigration which she says is not only a way to win votes, but also about doing the right thing.  She thinks this is a very important discussion for Republicans to have because it means they are fighting for the Latino vote.  Republicans used to receive 44% of the Latino vote and in the last election they only received 12%!   "If you want to know why Republicans are losing elections, look at the Latino vote," said Nicolle to which Rosie O responded, "Look at Romney."  Whoopi suggested, if Republicans want to court Latinos they should not just pander to them but also follow through on the promises they make. Rosie P added that Pitbull is philanthropic and one of his causes is education, which is another reason he is being courted.
Bobbi Kristina:  Whitney Houston's daughter Bobbi Kristina is fighting for her life after being found unresponsive in a bathtub over the weekend.  Her family is keeping vigil at the hospital but neither the hospital nor the family have released an official statement about her condition.  Rosie O called the situation "tragic" and said that it is nearly 3 years to the day since her mother was found dead in almost the exact same way.  Rosie P thinks the unauthorized movie biography of Bobbi's mom must have really hurt her deeply.  She said too often people forget that famous people are human beings too.  Rosie O remembered the reality show, Being Bobby Brown, in which Whitney and Bobby both appeared to be high in nearly every episode.  She said the network just continued to tape and air the show, despite the fact that it was quite obvious that it played witness to two people in the throes of severe addiction in the presence of a child.  And, she said, "nobody seemed to care."   Whoopi said that Whitney's mother really did care about how bad the show was representing her daughter but she couldn't do anything about it except sit back and watch.
Super Kiss: There is some controversy over Bill Belichick giving his adult daughter a celebratory kiss on the lips following his recent Super Bowl win. Whoopi thinks he was just "in the moment" and she didn't see anything wrong with it. Nicolle didn't ever remember kissing a family member like that.  Rosie O said she will lay kisses on her kids whenever and wherever they will let her, especially now that they're teens and they want no part of it/her.  She thinks people are making a lot out of nothing.  Rosie P said it was an emotional moment and she also saw nothing wrong with it.  Whoopi asked listeners to go on Facebook and let them know how YOU feel about the Super Kiss.
50 Shades of Awkward: 50 Shades of Grey is supposedly the raunchiest mainstream movie ever released with over 100 minutes of sex scenes.  Nicolle thinks people will go to the movie in droves as they weren't embarrassed to read the book on the subway.  Whoopi wondered how many guys are going to go see it.  Rosie O remembered seeing the first gay female sex in a movie, The Hunger, and it about made her head explode.  She said she was "so embarrassed."  Rosie P remembered Last Tango in Paris that has a very graphic sex scene with a stick of butter.  Rosie P intends to go see 50 Shades, but she said she is upset that they are going to have full frontal nudity of women but not of men.  Rosie O asked, "We're not going to get to see the meat and potatoes?!" Nicolle said this is probably because the studio was trying to maintain an R rating. Rosie P wanted to know why showing naked women means an R rating, but showing a man's penis means an X rating.  Whoopi thought this was because the people who made the ratings were men and they were more comfortable seeing a naked woman. Nicolle thinks the net effect is that the book got women talking about sex, which is a good thing, and she hopes the movie does the same.
Is Divorce Okay for Kids: Kate Winslet recently said her two divorces have benefitted her kids because they taught them how everyone is faced with struggles and it helps shape who we become.  Rosie O agreed, saying, "Nobody gets out unscathed."  She said 50% of marriages end in divorce and 80% of second marriages end in divorce.  She said marriage is a tough thing and the kids are along for the ride. She recalled growing up and wishing Julie Andrews would swoop in, make clothes out of curtains for them, save her family and then her motherless house would be alive again.  Only that never happened.  Whoopi agreed that life is a constant surprise and just when you think you know, something new shows up. Rosie P thinks that divorce is hard on kids but a lot of it depends on how the parents deal with it. Whoopi said the message to divorced parents is "be nice to your kids" and remind kids it isn't their fault.  Rosie O did a documentary for HBO entitled, Don't Divorce Me: Kids Rules for Parents on Divorce about how parents can help their kids get through divorce without enormous collateral damage.  If you have HBOGO, you can watch for FREE HERE!
Vacci-Nation: Chris Christie and Rand Paul both believe parents should have a choice on whether to vaccinate their children. Rosie O thought it was funny how a doctor (Paul) would tell this to people as it has been proven to be untrue.  Nicolle says when you become a parent you have to ask all the hard questions of your pediatrician.  She said Republicans are in "grave peril" by ignoring the science on this issue.  Whoopi understands that parents are afraid of Autism but said science has said it isn't the vaccines causing it.  And she wants parents to consider the fact that they are putting other kids at risk.
Gone to Pot: Rosie P brought up the marijuana issue for discussion.  She said the fact that Jeb Bush, who may run for President, has admitted to smoking weed has to be discussed.  If Jeb had been caught with drugs he would have received jail-time and would never had gotten the opportunity to be President.  She thinks we, as a country, need to address the issue that people of all economic standings smoke marijuana.  Rosie O mentioned a documentary she saw that said white people use as many drugs as black people but it is mainly people of color who get prosecuted and arrested for drug possession/use.
Hot Sneaks: Rosie O plopped her foot on the table to show off her new sneakers!  Rosie P's husband Haze designed the limited edition sneaks and they are only available at the Nike Lab.  Check 'em out!
Guests:
Martin Short: Martin Short is currently on Broadway starring in It's Only a Play and he has just released a new memoir entitled I Must Say: My Life as a Humble Comedy Legend.   Martin said he was a bit apprehensive stepping into the role on Broadway originated by Nathan Lane.  It was only after Mike Nichols convinced him to do it that he called his agent and said, "The Pope has spoken. Sign me up!"  Martin joked about when other actors come backstage and try and tell you the truth about your performance in a Broadway show.  He said, "Don't tell the truth!  The truth is not important.  Don't say you can't lie.  You're an actor!  Act!"   Whoopi asked Martin about all the wonderful characters he has created in his career and Martin did a few characters for the audience.  He said all of the characters are loosely based on real people he's come in contact with in his life.  The members of the studio audience received two tickets to It's Only a Play!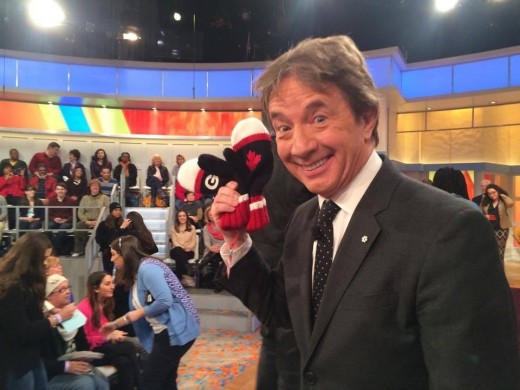 The Actors from Fresh off the Boat: Based on Chef Eddie Huang's memoir, Fresh Off the Boat, is a comedy about pursuing the American dream.  It's the 1990s and 12-year-old, hip-hop loving Eddie (Hudson Yang) just moved to suburban Orlando from DC's Chinatown with his parents (Randall Park and Constance Wu).  Randall Park and Hudson Yang joined the ladies to discuss the new series!  Randall also recently starred in The Interview as Kim Jong Un and Rosie P wanted to know if he was ever worried for his life!  He said he wasn't but his family and friends have been worried for him.
Hudson, who is just 11-years-old, described the series for the audience as a show about an Asian American family that moves from DC to Orlando and has to fit in and become part of the community.  He said his character's dad (played by Randall Park) is trying to get his restaurant off the ground and has to try many different ways to make it successful.  The two-hour premiere Fresh Off the Boat premieres tomorrow (2/4) on ABC!
Audience Giveaway:  Members of the studio audience received a copy of Dear White People on DVD and 2 tickets to It's Only a Play on Broadway!
Take a little time and enjoy The View.
written by Kelly Weist
KidRo Productions