In case you missed it, right from the start there was a feud brewing on The View set. We're talking split screen-worthy. It was between Rosie O. and, wait for it… Blossom? (aka Mayim Bialik from Big Bang Theory) Seems Mayim's been talking smack about Rosie's favorite Disney film Frozen! Oh no you di-n't! And Rosie. O was having none of it. She declared Frozen to be the best Disney movie ever made, summarized the ever so complicated plot for Mayim's understanding and not-so-gently explained to her that "sometimes princes suck." So there ya go. Don't mess with Rosie's favorite Disney film, apparently.
Hot Topics:  
How much is too much:  Tennessee dad Mark Hughes found out his 15 year old son had been drinking alcohol and he wanted to teach him a lesson so he forced him to play a drinking game.  Witnesses called police after the child passed out and he had to be revived by EMTs! The father, who has a history of alcoholism, was arrested. The question posed to the panel?  Right or wrong? Nicolle believes in shocking teens in order to teach them but thought the father completely crossed the line by endangering his child's life. Rosie O. agreed and added that what the father did was not only wrong, it was criminal. Whoopi who has struggled with issues of addiction took a different approach and understood where the father was coming from.  Rosie P. said she thinks sometimes parents need to be taught how to parent and she said he crossed the line when he endangered the life of his child. Rosie O., who has had lifelong struggles with food addiction and obesity asked if it would be okay for her to deny her child food based on Whoopi's logic?   Whoopi stood her ground and said she kind of understood what the father was trying to do in scaring his teen. Rosie P. said no matter what happens she hopes the dad gets help.
Obama approval rating in a free fall: Nicolle, who had direct experience working for a President with low approval ratings, said it's difficult to govern when a President's approval numbers are so low. She thinks the battle with ISIS is the most important challenge our country faces today. Rosie O. thinks the country may be weary of entering into another war after just getting out of a war that lasted 10 years. Nicolle said 60% of the country supports the U.S. taking airstrikes against the militant group, but she's worried about what happens should a plane be shot down. She said it would take "boots on the ground" to rescue our troops and that's a "terrifying slippery slope" for people.  Whoopi finally said if we don't take a stand against ISIS, we're going to be afraid all the time. She said she's tired of terrorists making us live in fear and constantly demanding money from us. Rosie O. said it's a specific group's philosophy we are at war with, not the nation itself. She wondered how we go to war with a thought process? Nicolle said our intentions with the country need to be clear that it is not the country we're at war with but the militant group.  She ended the segment by saying despite the fact that President Obama is a "reluctant warrior" she thinks he is "deadly serious" this time and the beheadings of the journalists have solidified his resolve.
Parents pay thousands of dollars to get kids into preschool by age 2:   The author of a new book How Toddlers Thrive thinks it's a waste of money to pay thousands of dollars for your two year old to go to preschool.  Whoopi said preschool is really only a benefit for lower income families.  Rosie P. said she thinks it should be a public mandate that education is free to everyone across the board.  She also resented the assumption that people with money are more capable of educating their children than the poor. Nicolle just went through the preschool application process in NY and said people think this is the first step to Harvard. Rosie O. said she never considered preschool because she liked her children at home with her when they were that little.
Guests:
Barbra Streisand: Rosie O. had a sit down with the one and only Ms. Barbra Streisand. As every Rosie fan knows, Barbra was her late mother's favorite singer and it was through listening to her music that she felt close to her mother after she died. Rosie said playing Barbra's music after her mother's death, "kept her alive." She has always idolized Barbra and when she was on The Rosie O'Donnell show back in 1997 she got the chance to meet and interview her idol on her show for the very first time. You can watch that now infamous video here.  She said knowing Barbra in real life has proved to her "if you dream it, you can live it."
Rosie got the chance to interview Barbra again for The View while she was doing a press junket for her new CD Partners. You can watch the interview in its entirety here but if you cannot access that video (or you're running out of data on your cell phone plan) here's a little of what happened during the interview.
Rosie and Barbra sat closely across from each other and discussed her latest CD and how it was made. Barbra said for some of the duets she sang with the other artists live in the studio but for some of them, she sang her part first and the men sang along with her recording.  Barbra sings a duet with her son on the CD and told Rosie a story about the time she once sang a duet along with her mother.  She talked with Rosie about what it was like growing up in Brooklyn and what it feels like to grow up with only one parent.  Both Rosie and Barbra believe that growing up with such a great loss of a parent, while incredibly painful, helped propel them into the people they are today.   She talked about the "partners" she sang with on the CD including John Legend, John Mayer, Billy Joel, Lionel Richie, Michael Buble, etc.  She said she strove for excellence in each performance. Rosie ended the interview by saying oftentimes she hears people say "never meet your heroes because they will disappoint you" but she said that's not true for her because Barbra has never and could never disappoint her.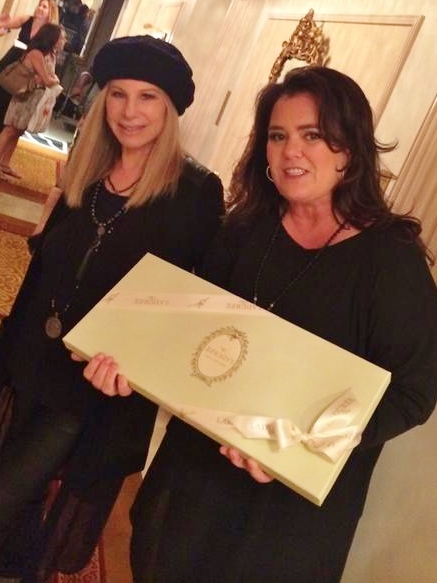 Jessica Chastain: Jessica Chastain visited the studio today to promote her latest film The Disappearance of Eleanor Rigby which is in theaters now.  Jessica has been nominated for two Oscars for her performances in Zero Dark Thirty and The Help. She said playing the CIA officer in Zero Dark Thirty was the toughest role she has ever played because it's so unlike who she is in real life. Rosie P. said one of the favorite roles of Jessica's was her performance in the film The Tree of Life.  Jessica is a graduate of Julliard and was first in her family to graduate college. The Disappearance of Eleanor Rigby is written and directed by her ex-boyfriend. They dated for a time and then she went on to become a huge star.  She came back to him and asked him to do this film with her because she really believed in him and how talented he was.  Jessica said "I don't believe that love ends, it just transforms." Jessica said it was a very emotional experience to make the film which is really two films, one story told from both male and the female perspectives.
Then Jessica introduced the audience to the true love of her life, Chaplin the 3 legged rescue dog. Adorable!
Audience Gift: Frozen on DVD!
Quote-ables:
Rosie O: "If you dream it, you can live it."
Whoopi: "Never be afraid to show an eating hamster."
Nicolle: "Obama is deadly serious this time."
Rosie P: "It should be a public mandate that education is free."
Barbra Streisand: "I have never wanted to disappoint people."
Jessica Chastain: "I don't believe that love ends, it just transforms."
And that's what you missed!