Hot Topics with special guest host Jordin Sparks:
The CMA's Wrapup: The ladies discussed the CMA's last night. Country music star Miranda Lambert had a big night last night taking home 4 CMA's including Best Female Vocalist of the Year! Rosie P has a girl crush on Miranda Lambert and followed that up with, "Your husband ain't bad either, honey, mmmmmm." Nicolle offered to take Blake if things work out for Rosie P and Miranda. Whoopi called dibs on Brad Paisley. Brad Paisley and Carrie Underwood cohosted the CMA's for the 7th time and some thought their jokes were a bit risqué but Whoopi thought their commentary was very funny. She said there is very little "color" in the audience of the CMA's and she appreciated them acknowledging that. Jordin Sparks grew up loving country music and wanted people to know there's so much more to it than the twang. Whoopi agreed and pointed out that the roots of country music come out of Gospel music. Nicolle likes country music and labeled herself as a "stereotypical Republican country fan." She joked about that republican candidates could only ever get the country artists to come perform at their events, so she's familiarized herself with a lot of it. She liked Underwood and Paisley's commentary and that they pointed out the "elephant in the room, saying the thing that everyone's thinking but won't say."
Alex Rodriguez: Alex Rodriguez used to say he never did steroids but now he's saying he may have admitted to using performance enhancing drugs this past January in exchange for less of a suspension and immunity. Rosie P was very disappointed as both a Latin and a baseball fan. She thinks he should have admitted it in the beginning and the forgiveness would have followed. She thinks he tarnished the Yankees. Nicolle said the worst part is that the Yankees are now "stuck with a drug using liar." Rosie O mentioned a great documentary entitled The Armstrong Lie where a documentary filmmaker chronicles Lance Armstrong's fall from grace and really shines a light on his public lying. Whoopi thinks as a public figure, it's hard to keep up with your lies. She said if you know you did "it" and eventually it could come out, you should admit to it because it will.
Woman Found: Carlesha Freeland-Gaither has been found after a video of her being brutally abducted was released this week. The ladies applauded and were so happy Carlesha is resting comfortably at home! Rosie P is a big fan of the show Investigation Discovery and thinks this result makes the case for increased surveillance. Rosie O said if it wasn't for that camera that young woman might never have been found. She thanked God they had the surveillance cameras that helped catch her kidnapper. Nicolle agreed. She said she learned on the television show The First 48, if you're not found in the first 48 hours of when you go missing your chances of survival drop to about 1%.  She pointed out that in London there are cameras on almost every corner. Whoopi doesn't mind it especially if the cameras help them catch the bad guys.
Rosie P Rocks: All the ladies were extremely proud of Rosie Perez because last night, at the New York City's Council on Puerto Rican Heritage celebration, she received a proclamation for her outstanding career in entertainment and being an activist for the AIDS crisis and her dedication to the education of New York City's youth. Congrats Rosie P!!!
Viral Video: A California mom was approached by a woman who told her to calm her child down and she punched her in the face for it. Rosie P doesn't condone violence but thought it was really funny. Whoopi said the last thing you want to do is piss off a frazzled mother! When Nicolle got the job at The View her husband told her the first thing she has to do is "quit screaming at strangers" who tell her to keep the baby quiet. Once she and her husband were on a plane and their toddler had a tantrum and the woman sitting behind them was huffing loudly at the disruption. Nicolle's husband wouldn't let her confront the woman so she just yelled at him. Whoopi thinks maybe Richard Branson should start a special airline for parents called Mommy Fly. Rosie O said when she's on a flight and she sees a mom frazzled by her baby, she will offer to take the baby for her. She loves babies and loves to hold them. Jordin had a lady with a newborn sitting behind on a plane once who showered the other passengers with gifts of candy as an apology. Rosie P said a screaming baby on a plane is "annoying as hell, let's be real" BUT it's not the baby's fault, so she asked people to have some compassion.
Migraine Awareness: Jordin Sparks gets migraines and she's partnered with Excedrin Migraine for the past two years to raise awareness about the condition. Rosie O heard Jordin's story and didn't realize migraines could be triggered by stress. Jordin told the ladies about an app called My Migraine Triggers where you can track what triggers your headaches because it's different for everybody. Whoopi gets migraines and knows when they're coming so she said she's going to download the app and start tracking them.
Don't Fart In An MRI: The ladies discussed a hilarious blog that tells the story of farting in an MRI machine written by Elaine Ambrose. That exact experience had never happened to any of the ladies at the table but they had a good laugh about it and Rosie P said she's tried to hold her farts before but said you shouldn't do that!
Guests:
Cedric The Entertainer: Cedric the Entertainer joined the ladies of The View to discuss his new movie with Chris Rock entitled Top Five. Rosie O and Cedric reminisced about the time they sat next to each other at a dinner at Jerry Seinfeld's house and Rosie cracked the antique chair she was sitting in! Cedric said he plays a reformed drug dealer in a new Chris Rock comedy. They discussed the film, his role and the many cameos you will see in the movie. Cedric chatted with the ladies about his wife of 15 years and their two children. And because November is American Diabetes Awareness Month, Cedric is promoting a program called Step On Up that brings awareness to diabetic nerve pain. He encouraged viewers wanting to learn more to go to the website StepOnUp.com and take the assessment test to see if your symptoms could be related to diabetes. His new movie Top Five is out in theaters in December. Go see it!
Boy George and the Culture Club: From one of the most groundbreaking groups of the 80's, that helped put MTV on the map, Boy George from the Culture Club joined the ladies of The View. He said he is celebrating a recent weight loss and his seventh year of sobriety. Boy George said he's performing again with Culture Club because he wanted a chance to rewrite the ending. He wanted the chance to do it over and go on tour and actually enjoy it. Rosie O quoted Boy George and one of his most famous lyrics that states, "Fame is the impending, glittering, disaster." She agreed and he said that's because it's true. He said when you're young you spend all your time invested in your career. He has learned to have more of a work/life balance and take time out to do nothing. For him, it's a skill he had to learn. Boy George and the Culture Club have a new album out entitled Tribes. They sang More Than Silence from their new album and the 80's classic Do You Really Want to Hurt Me.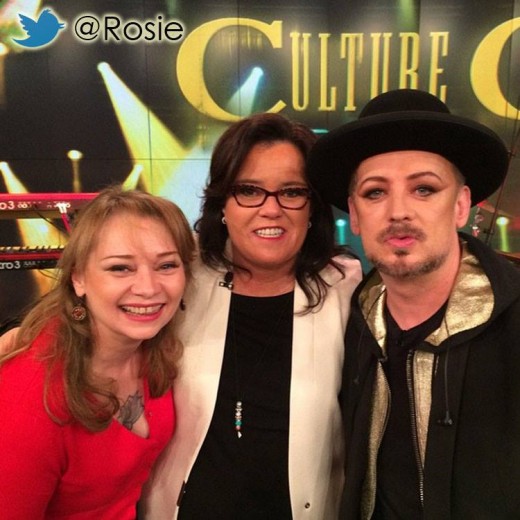 Quoteables:
Nicolle: "There's power in saying the thing that everyone's thinking but won't say."
Rosie O: "If you mess up, fess up. Simple."
Whoopi: "The last thing you want to do is piss off a frazzled mother!"
Rosie P: "You shouldn't hold your farts. Let it go! Let it go!"
Boy George: "Fame is the impending, glittering, disaster."
Take a little time and enjoy The View!