Hello, recap readers.  Sorry for the delay in posting the full version of today's recap of The View.  The show did not air on the east coast due to the hostage situation in Paris.  #PrayersForParis
Whoopi is still off for a time with a bad back and Rosie Perez is rehearsing her Broadway show!  Get well soon Whoopi!!
Nicolle and Rosie were joined by guest co-hosts Barbara Walters and Cristela Alonzo, from ABC's Cristela.   Barbara entered The View stage to the song The Bitch Is Back, confetti and thunderous applause!!
Hot Topics: 
Will She or Won't She: The ladies discussed when and if Hillary Clinton will announce her run for Presidency.  Barbara said she recently went on a vacation and saw the Clintons at the late Oscar de la Renta's house.  Hillary did not reveal to Barbara if she was going to run or when she was going to announce but it wasn't because Barbara didn't ask!  Barbara did say that Hillary seemed very relaxed and she and Bill seemed very close.  She recalled another time they vacationed together when she witnessed Bill reading poetry to Hillary.   Barbara had heard rumors that Hillary was going to announce her run for Presidency this month but Barbara doesn't think she will announce until spring.  Nicolle agreed and thinks Hillary will choose to do things on her own timetable this time go around.  Barbara said Hillary and Oscar de la Renta were very close and she and her friends got together to mourn his passing.  Cristela lost her mother years ago and said they found themselves laughing as they were gathering to remember her and it was really unexpected.  Barbara said she lost her little dog Cha-cha recently.  Nicolle said she's getting a puppy this weekend and she asked Barbara if she would like to come with her!  Barbara said she's not ready just yet to get another dog.  Nicolle has a Vizsla and she said she loves her so much, even more than her husband.  She wanted her son, who is now 3-years-old, to have the experience of raising a puppy.  It is their Christmas present to each other.
Should Parents Spy On Their Children: The ladies discussed whether or not it is okay for parents to spy on their children when it comes to technology.  Rosie believes as long as she's paying, she has the right to monitor her children's cell phones and Internet usage.  She doesn't even need to be looking at her teen's phone to spy on them.  She can see what they're doing on their devices from her own laptop with spyware.  Nicolle believes Apple products are made for the brains of a toddler because of the ease with which her son can navigate her devices.  She plans to spy on her son too when he grows up and has his own phone.  She said the Internet can be a terrifying place and she's also afraid her son might accidentally purchase something really expensive!  It's not that Nicolle doesn't trust her son, she said she just doesn't trust the people on the other end of his device.  Rosie said she would never let her child hang out on 42nd Street alone just like she won't leave her child alone with free reign over the Internet without being monitored.
Nicolle and the adorable Mario Cantone did another commercial for Centrum Silver.
Crafty-U:
Rosie convinced Barbara to get crafty!  She taught Barbara how to make Shrinky Dinks.  on photo paper.  Rosie explained the process to Barbara and in the middle of the segment Rosie suggested taking her to a craft store to show her around.  Barbara's response was, "I couldn't be more bored."  lol  Rosie made her a bracelet with the faces of her most memorable interviews, some View earrings, and a necklace with her late dog's face on it.   Rosie also reminded everyone to "like" The View on Facebook!  And while you're at it, "like" Rosie on Facebook too, won't ya?
Guests:
Chelsea Peretti: Comedienne Chelsea Peretti, from the show Brooklyn Nine-Nine, sat down with the ladies to discuss what she's been up to lately!  Chelsea said she was inspired to go into comedy by stars like Gilda Radner, Roseanne Barr and shows like Monty Python.  She has been doing standup for the past 14 years and she now stars in the hit show Brooklyn Nine-Nine with Andy Samberg.  But that wasn't how they first met!  Andy and Chelsea have known each other since elementary school!  In fact, she used to have a crush on him.  Brooklyn Nine Nine won the Golden Globe last year and Chelsea compared the experience to having 10 surprise parties all at the same time.  She said it was that exciting and unexpected.  Cristela loved Chelsea's standup special on Netflix entitled One of the Greats.  Chelsea is very active on social media.  You can follow her on Instagram HERE where she loves to post #ThrowbackThursday posts.   Brooklyn Nine Nine airs Sunday nights at 8:30 pm EST on FOX.
Patrick Stewart: Over the holidays Patrick stopped by to talk to Whoopi and Rosie Perez about his role as an aging ballet star forced to come to terms with his past in his newest film entitled Match.  Patrick said he was actively looking to do something a little different and when he read the script he related to the story.  He too has had to make sacrifices for his career just as the character does in the film.  He talked briefly about his new marriage, acting as a voice talent in American Dad, his years spent doing Star Trek and how much he loves doing puzzles in his free time.   The film Match opens in theaters January 14th!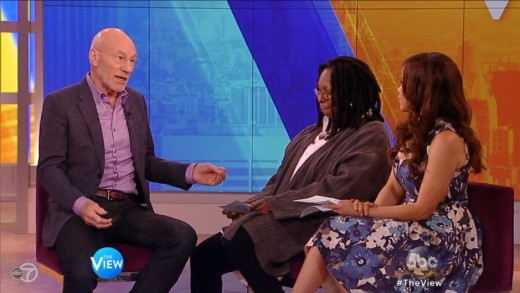 Audience Giveaway: Everyone in the studio audience received a Centrum giftbag with a Fitbit Zip!
Take a little time and enjoy The View! 
written by Kelly Weist
KidRo Productions