Hot Topics:
Whoopi was not on the show today because she wasn't feeling well and Rosie Perez is off for the month of January because she's currently rehearsing for her Broadway show, Fish in the Dark.  The guest co-hosts for the day were comedian Margaret Cho, co-executive producer and writer of The Mindy Project, Tracey Wigfield and former NFL pro and CBS sports analyst, Tony Gonzalez.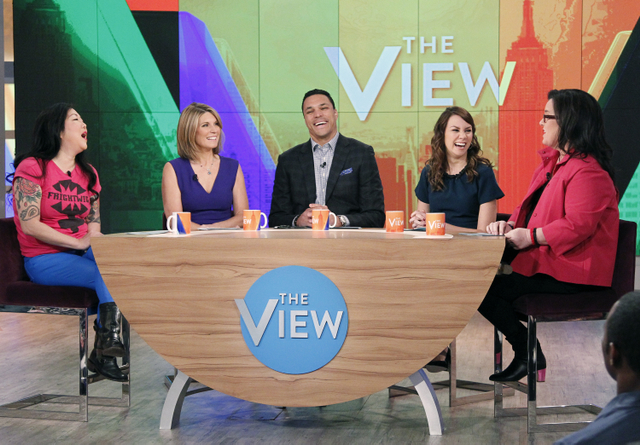 Holiday Wrapup: The group started today's show discussing what they did over the holiday break.  Tracey visited with her parents in New Jersey and mostly spent the time shopping with her mom at every Talbots and Chico's in the tri-state area, though Tracey isn't really a fan.  Rosie went to Florida over the break with her family.  At first she suggested they spend a week away as a family with no phones between the hours of 10 am and 9 pm.  She said that idea lasted for two hours.  Unfortunately, it was cloudy and rainy most the time they were there.  At first she thought it was horrible because everyone was spending so much time on their phone but her kids ended up using their iPhones to memorialize their vacation through pictures and video!  Rosie said she took all of their pictures and put them together in an iBook so now they have it as memento of their trip.  Nicolle bowled a lot over the holiday break and she's pretty good at it!  She said she almost always hits the center pin but she doesn't always bowl a strike because it's never with much force.  Tony worked a lot over the holiday break.  It's a busy time for him right now at the end of football season.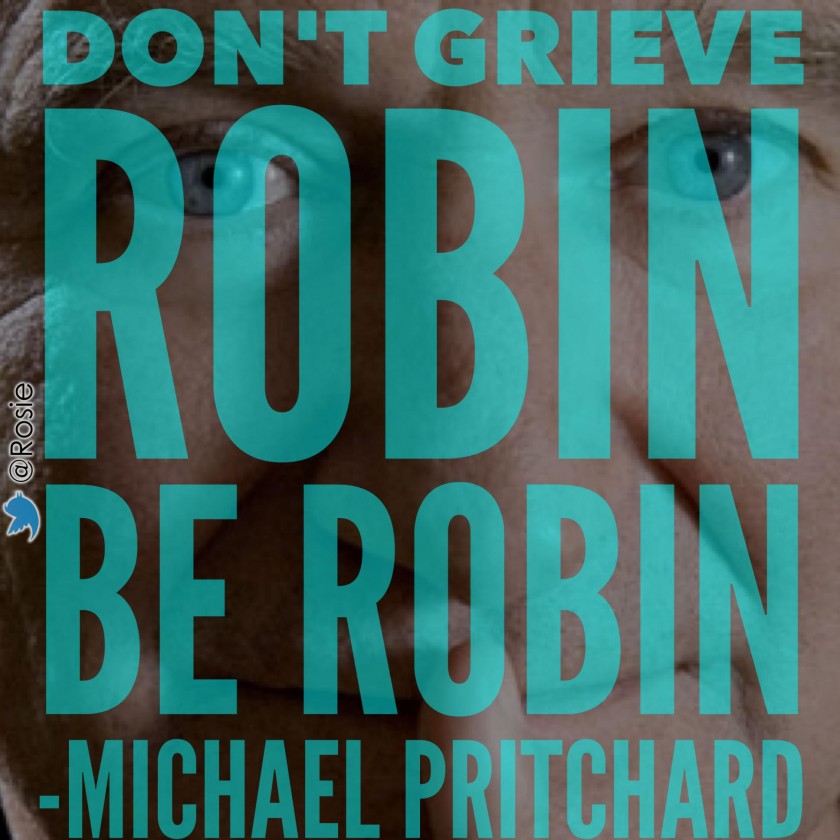 Margaret said she spent the last two months feeding the homeless in San Francisco.  It was her way of dealing with the death of Robin Williams.  She explained how Robin was a huge activist for the homeless.  Not only was he a fundraiser with Comic Relief but he also insisted that a certain percentage of the workers on his films were homeless workers.  Margaret worried Robin's work he had done for the homeless would be lost and her friend and fellow comedian, Michael Pritchard, said to her, "Don't grieve Robin.  Be Robin."  Margaret said Rosie was one of their first sponsors and gave their group a lot of money for the cause.  She would really just like to help give homeless people their dignity back.  And she reminded everyone that every homeless person is someone's child.  She said if you can't always give, at the very least we owe it to them to look them in the eye and acknowledge their presence.  Rosie recalled a time when she and her 17 year-old daughter Chelsea were in California and a 17 year-old homeless teen recognized Rosie.  The girl, the same age as Chelsea, didn't even want to shake Rosie's hand because she was homeless.  Both Tony and Nicolle went to University of California Berkeley, and they agreed that Berkeley has a very connected community with the homeless population near its campus.
Remembering Those We Lost Over the Holiday:  The group discussed the recent death of Mario Cuomo, who passed away at the age of 82.  He served as Governor of New York for a time and was a superstar in the Democratic Party for calling out President Reagan at the 1984 Democratic convention.  He was widely seen as a front-runner for President but declined to run.  Margaret remembered Mario Cuomo as "spirited" and respected him for how much he cared about people.  When she was little she also thought he looked a lot like Mel Brooks.  Tracey always saw Cuomo as a "straight-shooting" kind of guy or like an "Italian cousin of her mother's."  And she loved his quote, "There are only two rules for being successful; one, figure out exactly what you want to do, and two, do it."  Tony's favorite Cuomo quote was "Every time I've done something that doesn't feel right, it's ended up not being right."  He said that's exactly what he lives by.  Rosie saw Cuomo's death as an end of an era but Nicolle sees his political dynasty as still alive and well.  She admired him for his devotion to service and she said that feeling is felt across party lines no matter what you think about his political views.  She said when we lose someone, and everyone feels the loss, it says something good about what politics can be.   Margaret respected Cuomo for humanizing politics and always trying to get everyone to get out to vote.  Tony recalled how inspired he always felt when Cuomo spoke publicly and Margaret compared his inspirational speeches to Obama's speech at the 2004 Democratic National Convention.  Tracey agreed and pointed out the parallels in Cuomo's and Obama's speech content.
The sports world also lost Stuart Scott, who Tony said was the reason sports is so popular the way it is today.  Tony said Stuart connected to younger viewers by using a hip urban street flavor with his sports reporting that drew people in.  They discussed his inspirational speech at the ESPY awards about his battle with cancer.  Rosie was ashamed to admit that she didn't know of Stuart until after his death, but after reading about him she was very moved by his story.  Margaret said Stuart "leveled the entire world of sports" when he used the language of the players and the fans in his reporting.  She called him revolutionary and brilliant because before him it was racially divided.  Nicolle agreed and added that Stuart also made sports more multi-generational.
A RHONJ Goes to JAIL: Real Housewives of New Jersey star, Teresa Giudice, checked into prison today for multiple tax fraud charges.  In March of 2014, Giudice pled guilty to bankruptcy fraud and conspiracy to commit mail and wire fraud.  Supposedly, her two eldest daughters know she is going to prison but her 8 and 4 year-old daughters think she's going on a trip to work on writing a book about jail.  Margaret thinks Teresa should have just told her kids she was going to star on the show Orange Is The New Black as "Crazy Eyes' new girlfriend!"  Tracey was so excited (insert sarcasm) about having another positive role model from her home state of New Jersey.  Between Teresa Giudice and the cast of The Jersey Shore, (continued sarcasm) she couldn't be more proud of her home state.  She does feel bad for the Real Housewives star but reminded everyone that she got into this mess herself by lying.    Tony commented about how much arrogance Teresa showed when she committed financial crimes on television.  Nicolle thought lying to her daughters was a big mistake because even her own 3 year-old can get on YouTube.  She said her kids are bound to find out the truth.  Rosie didn't really understand how her kids were going to visit with her in jail and not figure out the truth but wished the reality show star luck.
NYPD's Silent Protest: Some NYPD officers are using the funerals of the assassinated police officers to protest against New York Mayor Bill de Blasio.  They are upset over statements he made to his biracial teenage son and how he told him he must be extra careful when around the police.  The NYPD were very offended and took the comments very personally.  Margaret said this issue is a very difficult one.  She said the issue of police brutality goes back many, many years.  And "whenever black and white people fight, Asians and Mexicans don't know what to do."  Nicolle said the NYPD feel de Blasio had an anti-cop campaign when he ran for office because his very first ruling was to overturn the "stop-and-frisk" program.  She thinks there are no winners and also that the NYPD is as entitled to their right to free speech as the protesters.  Tony thinks the mayor should come out and admit that maybe he approached the subject in the wrong way.  He doesn't think the tensions will subside until he accepts some responsibility.  Rosie doesn't necessarily think he handled the situation in the wrong way, she said that's the reality of what he's living.  She said the nation needs to be able to have cognitive dissonance and to have two opposing thoughts in their heads at the same time.  Which is, there is systemic racism in the United States and sometimes the police overreact and not all police are bad.  Tony said then the mayor should say exactly that.  Nicolle said she feels safe because of what the NYPD has done for the city.  Tracey said there's virtually a work stoppage because of the comments the mayor has made so if you want to go out and commit petty crimes, now's the time to do it!  Margaret said what's sad was that this protest happened at a fallen officer's funeral.  Tracey said the police commissioner had a great quote when he stated, "A hero's funeral is not about grievance, it's about grieving."  Nicolle said we must understand both sides and Tony pointed out that not all officers turned their backs on the mayor.   Rosie read a book over the break entitled The New Jim Crow about the arrest rates of African American males in the United States.  She said the book discusses how the latest trends in punishing black males in the new form of segregation.  She called it an "astonishing book."
Guests:
Marion Cotillard:  Oscar award winning actress Marion Cotilliard joined Rosie for a one-on-one discussion about her new film Two Days One Night.  Marion said the film is about a woman who has lost her job and is also suffering from depression.  Marion said she never went through a depression herself but came very close.  She admitted it's a hard subject to talk about because people who haven't experienced depression themselves can sometimes be very judgmental.  Marion thought it is amazing that there has been talk of her being nominated for an Oscar for her role in the film.  She briefly spoke with Rosie about her son who she and her husband have raised to mostly speak French.  Rosie called Marion "lovely, and amazing" and thanked her for coming on the show to discuss her film.  She said to Marion, "See you at the Oscars!"  Two Days One Night is in theaters now.  Go see it in a city near you!
Margaret Cho:
Margaret joined the panel again to discuss her new late night show that will answer everything you always wanted to know about sex, but were afraid to ask.  Rosie actually inspired Margaret to do the show!  She said the show is really about women enjoying their sexuality.  She's joined by several other ladies where they answer questions posed to them by women via social media.  Each woman has their own perspective but her role is to be the wild card.  She discusses polyamory, alternative sexuality, LGBT issues, sex toys, etc.  Margaret said the key to a successful marriage is to have sex with a lot of other people.  She said, "It takes a village!"  Margaret thinks social media makes it even harder to talk about sexuality today because as soon as you say something, it's out there.  She said there's a lot of misinformation, miseducation, myth spreading, and ignorance about STD's out in the world today.  When TLC approached her about the idea for the show she jumped at the chance because it was her dream show.  She always wanted to do an Oprah-type show about sex where they could talk about sex openly and not feel judged or ashamed.  Margaret served on the board of Good Vibrations, the first company that designed sex toys for women so that women could safely learn about sex toys and feel good about themselves while doing it.  Margaret discussed how she was once nominated for an Emmy for her performance playing Kim Jong-un. In light of the Sony scandal she believes her emails are safe and she said there are already naked pictures of her out there and no one cares.  She has a new comedy special premiering in March of 2015 directly related to her anger about violence towards women.  It's entitled There's no 'I' in 'Team' But There is a 'Cho' in 'Psycho.'  All About Sex premieres on TLC this Saturday, January 10th, 2015.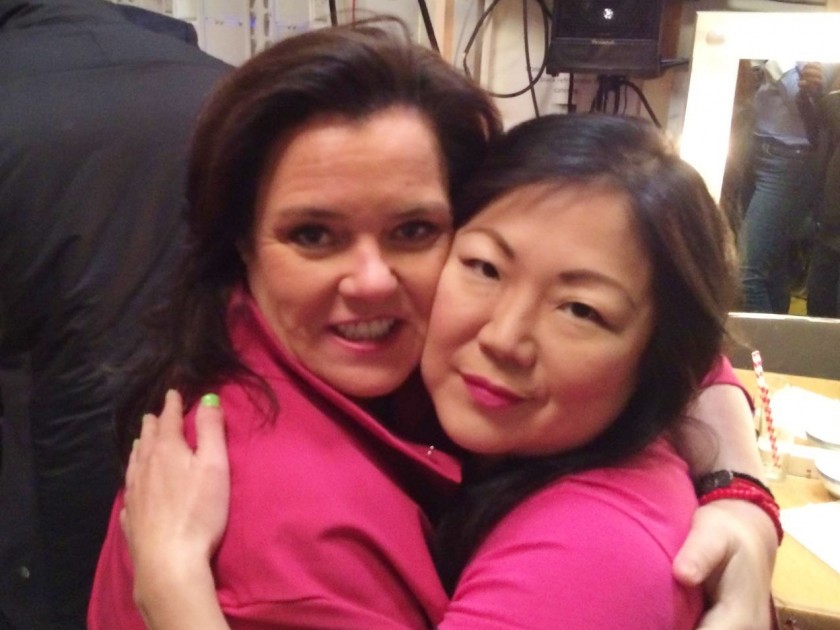 Take a little time and enjoy The View!
 written by Kelly Weist
KidRo Productions