Today on The View Rosie and Whoopi were joined by guest co-hosts Mario Cantone and Joy Behar!  Nicolle was out sick again today and Rosie Perez returns in February.
Hot Topics: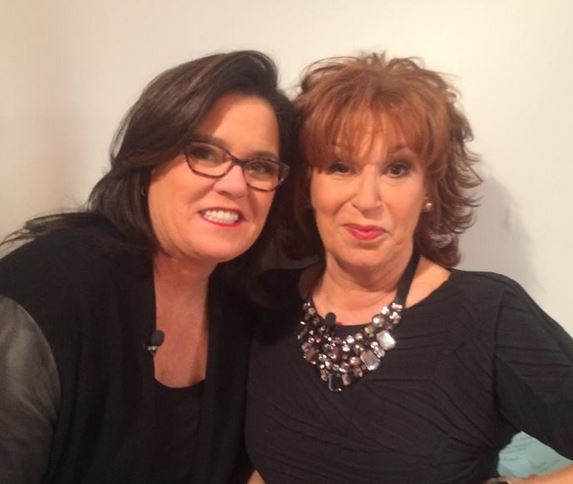 With This Ring, I Me Wed: There's a woman who was unable to find "the one" by the time she was 40-years-old so she threw herself a wedding to marry herself!  She bought a gown, walked down the aisle, had bridesmaids and invited friends and family to attend.  Mario said, "Marrying yourself is destroying the institution of marriage and ruining family values!"  Joy said, "Next they'll be marrying beasts, pigs and cows!"  And she said the perfect wedding gift for this woman would be endless batteries.    Rosie said Jane Lynch's character on Glee started this trend of marrying yourself.
Go with the Flo: One of TV's favorite sitcom moms, Florence Henderson, says she's having the best sex of her life at 80-years-old!  She also said she still has "friends with benefits" and will only date men who can keep up with her in bed.  Rosie said, "Way to go Carol!"  Mario thinks Florence is still a "hot mama."  Joy wondered how Florence is dealing with the gynecological issues that happen at her age.  Joy's doctor told her her vagina is the wrong color, for example!  It is violet and should be dark purple which means her vaginal wall is thinning!  Whoopi pretended to look up her vagina to see what color it was.
Aged to Perfection:  There is a 31-year-old man who was just profiled on My Strange Addiction who won't date anyone under the age of 60.  In fact, he just finished dating a 91-year-old woman.  Joy joked that his ideal woman is Barbara Bush (get it?).  And Mario sat with his mouth agape, completely speechless…which is rare. Whoopi was thrilled about the story and said maybe someday she'll be a cougar too!  Mario thinks there is someone out there for everybody.  And he heard dentures turned this guy on and he wanted to know if the guy preferred the dentures in or out of the mouth.  Joy thought this "older woman thing" was just a fetish and she asked Mario if he had any fetishes.  Mario said some people think he has a fetish for black men, because his husband is black, but that's not true!  He said he likes all men and doesn't discriminate.    Rosie. Didn't. Say. A. Word.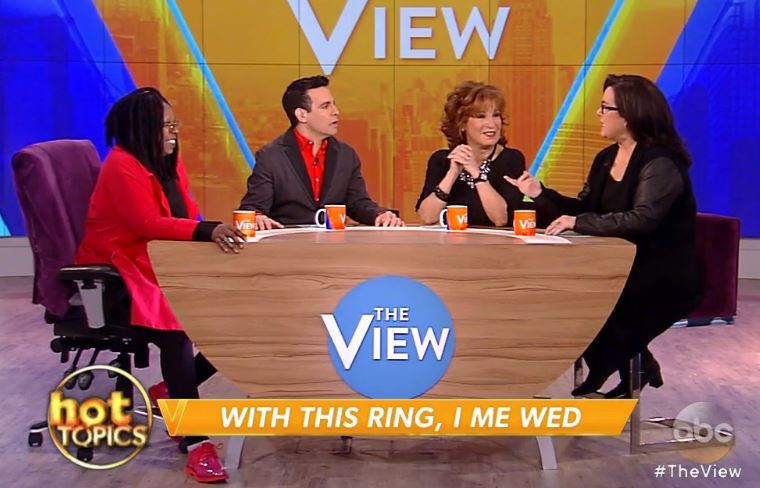 Mommy Nearest:  Research is showing that kids grow to resent mothers that are overly controlling.  Joy agreed.  She said kids will start to hate you if you are a "Tiger mom."  Rosie said her problem as a mom is that she's "under-controlling" especially according to her ex-wife Kelli.  She said Kelli is a fantastic parent but Rosie simply has a different style.  She's much more permissive.  Mario doesn't know what he would be like as a parent but he said if he's around a child who is crying, his instinct is to give them something to quiet them down.  He worried he would spoil his child rotten just to keep them happy.  Mario said his mother wasn't overbearing but you never knew what kind of mood she was going to be in from one moment to the next.  Joy said her mother had mood swings like that too and she attributed it to B.I.D. or "Bipolar Italian Disorder."  Joy said some would call her an overprotective mother but she said she can't help being a worrier.  She thinks women, in general, are worriers.  Rosie said she's a worrier too when it comes to her kids.  When her kids go to a friend's house she wants to meet the parents and that infuriates her daughter Chelsea.  Joy's father would never let her sleepover anywhere.
What's in a Name: A French court has banned some parents from naming their child "Nutella."  The couple argued that they wanted their child to be popular and sweet like the spread, but the court said no.  Whoopi was surprised a court would even care about a baby name especially with all the crazy baby names out there.  Joy pointed out that Gwyneth Paltrow's daughter, who is named Apple Martin, is just one letter away from being named Apple Martini!  Mario read some of the most popular food-related baby names including Apple, Brie, Basil, Candy, Chardonnay, Evian, and Hennessy.
Their Own Devices:  The country of Taiwan just made it illegal for children under 2 to use any electronic device – phones, iPads, etc.  Joy thought it was a good idea!  Whoopi wanted to know how an entire country could enforce such a law and Rosie pointed out that all those products are probably made in Taiwan!  Joy's grandson, who is just about to turn 4, was playing a game on her iPad.  It said he had to pay .99 cents for the game he wanted so he said, "These fucking people always want money!"  He's FOUR!  Whoopi wanted to know where he got that language from?!  Joy's daughter blames Joy for teaching him the f-word but Joy swears she doesn't say that word in front of him.  Maybe near him, but not "in front" of him.
Guests:
Antonio Banderas:  Antonio Banderas stopped by The View to discuss his new role in the new animated feature The Spongebob Movie: Sponge Out of Water.  Antonio said this project fell into his lap accidentally.  He said years ago he acted in the movie Spy Kids which was a huge success.  Then he joined the Shrek movies which led to Puss 'n Boots and now Spongebob!  He said he likes to remain versatile and do these characters in these kids' projects.  Antonio said the essence of being an actor for him, is to be open to the possibility of visiting many different genres with his work.  He was the only actor in the film because every other character was animated, so he had to use his imagination for all the scenes.  Rosie complimented Antonio for all the work he's done on Broadway including his work in the play Nine.  Antonio said he would love to come back to Broadway and acting on the Broadway stage was the happiest time he's ever had living in America.  Rosie said the same with her.  She said Broadway is the most fulfilling experience she's ever had as an actress. Antonio said theater is like a wonderful woman that loved him once but he's abandoned her!  Antonio also play Picasso in 33 Days.  Before he got the role of Picasso he painted a little privately but never for anyone else.   The Spongebob Movie: Sponge Out of Water opens in theaters on February 6th.  Go see it!
Rosie's Weight Loss:  Two years ago Rosie had a heart attack and last year she had vertical gastric sleeve surgery to lose weight.  The doctor who performed her surgery whom she credits with saving her life, Dr. Amit Trivedi from Hackensack Medical Center, joined her for an intimate one-on-one discussion.  Firstly, she thanked him for saving her life.  Dr. Trivedi said we have to rethink the way we think about obesity.  There are gyms on every corner, thousands of books about diets and yet we're the heaviest we've ever been as a nation.  Rosie chose vertical gastric sleeve surgery (VGS) but she said each person is different and they need to decide what is best for them personally.  She chose VGS because it has the least amount of complications after the surgery.  Dr. Trivedi said VGS is one of the safer operations that they offer and less than 1% of the people who get this operation have any issues whatsoever.  Rosie was on 16 medications after her heart attack but after losing the weight with the surgery, she's now on just 4!  The surgery has tremendously helped her overall health.  Dr. Trivedi explained how VGS changes the size of your stomach from the size of a football to the size of a banana.  The stomach can no longer hold as much food and by removing about 80% of the stomach, he also removes the hunger producing hormones.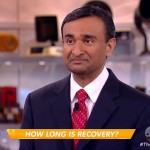 Rosie said her stomach surgery was done through her belly button and she doesn't even have a scar.  Dr. Trivedi said Rosie's new stomach, which is about the size of a toddler's stomach, now matches her metabolism.  She has more energy now, she's on less medications and her heart is a lot happier because of it.  Rosie said a lot of people like her who have been heavy for most of their life are heavy because of emotional eating.  Dr. Trivedi said the surgery helps those that eat emotionally but that's not the only thing that contributes to their weight.  By removing the hunger hormone producing part of the stomach, the physical hunger is gone.  Rosie said that's true for her.  Once she had the surgery and her body recovered she could walk past the popcorn at the movie theater without a problem!  She has no desire to eat it when before she couldn't resist.  It's almost like the surgery did something to her brain, she said.  Dr. Trivedi said that's what removing the hunger hormones does.   He said they also have nurses and support groups to help people deal with emotional eating.
Rosie said every person has to be ready to make the change before they have the surgery.  She almost died and the doctors told her if she didn't lose weight, the chances of her having another heart attack was much greater.  She had considered having surgery in the past but never took that step.  Dr. Trivedi wanted people to know that they don't have to wait for a life-changing or life-altering event to decide to have weight loss surgery.  He said we have to see obesity as the disease that it is.  The disease is very specific and has specific symptoms such as diabetes, heart disease, knee problems, arthritis, polycystic ovaries, etc.  And instead of getting a patch for each one of those symptoms, Dr. Trivedi believes in treating the one underlying problem – the obesity.  Rosie's only regret about the surgery was that she didn't do it 10 years ago.
Is Weight Loss Surgery For You:   
Rosie took several questions from some beautiful and brave audience members.  
Q: How does one overcome the guilt and shame one feels because they aren't able to lose the weight on her own?
A: Dr. Trivedi said the doctors at his hospital are asked that all the time.  He said guilt and shame are part of this disease but treating it is the best thing you can do for your health.  He said you have to make a decision.  You have to either choose life or choose staying the way you are which has definite health risks.  He said guilt and shame is a normal concern of his patients but they have support groups that can help patients with that issue.
The audience member also realized she has no photographs of herself with her kids and if something were to happen to her, her children would not have any pictures of their mom.  The audience member never allows herself to be photographed because of her weight.  Dr. Trivedi said these are more of the consequences of the disease of obesity.  It doesn't just effect your health it has emotional consequences too.
Q: What it's like to be pregnant after surgery?
A: Dr. Trivedi said surgery and losing weight will actually allow you to have a healthy pregnancy.  If you get pregnant at a high weight you're immediately considered high risk because of the increased risks of diabetes and high blood pressure.  Losing weight is the best thing you can do for your pregnancy.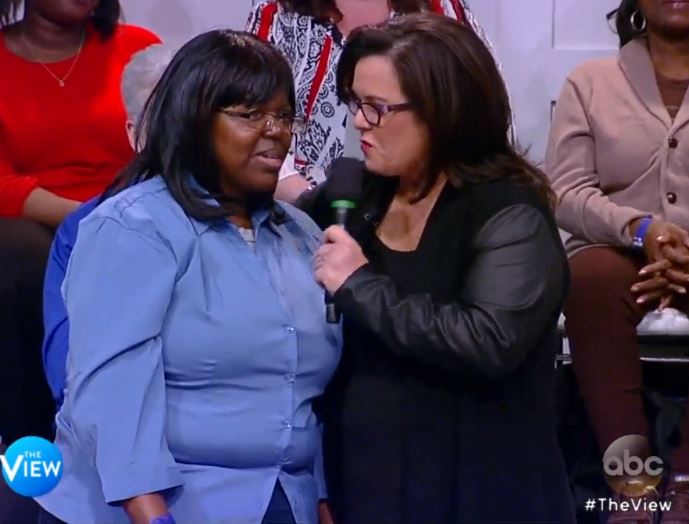 Q: How long is the recovery period?
A: Dr. Trivedi said the recovery period is very short.  The surgery only takes a day or two of recovery time in the hospital and most people are back to work within a week after VGS.
Q: Is Rosie still tempted to eat fattening foods since having VGS?
A: Rosie said not as much as before the surgery.  She said before VGS when her kids would ask to go to McDonald's she would get a Quarter Pounder Meal.  Now she orders a small fry, eats a few, and gives the remainder to the kids.  The surgery has changed the way she feels about food and the way her taste buds react to food.  It has also changed her cravings and overall hunger.  Rosie said she doesn't have the "obsessive relationship" with food that she used to have.
Q: An audience member who had VGS last June and lost 80 pounds, has noticed that some of his old habits of overeating are starting to come back.  He wanted to know what he can do to not fall into that same behavior he once had.
A: Dr. Trivedi stressed exercising and attending the support groups following the surgery so you can get support.   Rosie suggested the online support groups.  She found a lot of helpful people on them before she had her surgery and now likes to go on the online groups to give advice and offer support to others.
An audience member who had the lap-band surgery that didn't work chose to have VGS and she's lost 40 pounds in the last four months!
Rosie said she's heard before that lap-band surgery doesn't always work for everyone.  Dr. Trivedi said it's important for people to find what works for them.  But he said if the surgery you chose doesn't work for you, they can help you find that tool that does work.
Rosie encouraged anyone thinking about this surgery to take your life into your own hands.  Be the one to save your own life.
Watch part of the segment HERE on ABC.com
Take a little time to enjoy The View!
written by Kelly Weist
KidRo Productions