Today the ladies of The View were joined by guest co-host Michaela Watkins who does a fabulous Arianna Huffington impersonation!  She is also going to be on a new Netflix series entitled Wet Hot American Summer with Bradley Cooper.
Weather or Not:  New York City did not get hit as badly by this week's blizzard as the mayor predicted.  Nicolle thinks he's damned if he does and damned if he doesn't.  She said he would have also been blamed had he not warned the city and they got slammed by a storm.  Whoopi thinks we should all pay attention to the meteorologists regardless.  Rosie agreed.  She said whenever she's on a flight with turbulence, if the flight attendants appear concerned, she gets scared.  She looks to the experts to know how she should react and feels the same about the weather.  Rosie had 5 kids home with her yesterday during the snowstorm and thanks to Apple products, everyone had their own entertainment to ride out the storm!  Rosie binge-watched the series Wentworth, an Australian female prison drama and she loved it.  Michaela loved how verbose New Yorkers were when the storm didn't deliver as promised. She said if there was a weather event like that in Los Angeles, it would have been so epic they would have already sold the movie rights to it.
School Is Closed:  There's a principal in Providence, Rhode Island whose video has gone viral for the way he announced the snow day.  Rosie gave him a standing ovation!  Watch the video below and you'll see why…
Money Talks: Over 100 million people will be watching the Super Bowl this Sunday and yesterday the Patriots and Seahawks sat down for media day interviews.  Seattle's Marshawn Lynch didn't have much to say to the press so he repeated, "I'm here so I won't get fined" twenty-five times during an interview yesterday!  Whoopi pointed out that football players are contractually obligated to speak to the media and Nicolle wondered why.  Rosie said it's similar to when an actor does a movie.  She said the studio invests a lot of money in the actor's salary and in the production of the movie so actors are required to do promotion events for the movie.  Michaela thinks actors are more naturally inclined to speaking to the press and didn't know why it would be necessary for football players. Nicolle said if she was doing media training for professional football players and one of them told her they didn't want to talk to the press, she would have begged to get someone else.  Nicolle didn't think he should have to do it and she admired his message.  Rosie liked it too!  Whoopi said that everyone doesn't do press events well, yet everyone wants to look their best in front of the media.  She doesn't think they should force the players to speak when they clearly don't want to.
Ad Nauseum: GoDaddy just pulled their Super Bowl commercial that was set to air on Sunday after animal rights groups took issue with it.  Watch the ad here.  Nicolle can't be neutral when puppies are involved.  She doesn't think the ad is cute or funny.  She uses GoDaddy but thinks the ad is in terrible taste.  Rosie didn't know why Nicolle was so offended by the ad because she just purchased a purebred dog from a breeder.  Nicolle thinks it makes light of the connection between humans and animals.  Rosie didn't find it so horrific and said she owns some purebred dogs herself.  Michaela, who admittedly still has PTSD from the movie Benji, said to her the ad offended her not because the dog was a purebred being sold on the Internet, but because of the woman's cold-hearted attitude.  And she worried about the actress who bragged about booking a Super Bowl ad that's now been pulled!  Nicolle admitted to watching the Super Bowl for the commercials and Rosie wondered why they're releasing them before the big day!  She thinks it ruins part of the fun.
A new commercial by UltraViolet is taking aim at the way the NFL is handling domestic violence. Watch the ad here. Whoopi thinks the ad is "an interesting addition" and reminded everyone that not all football players are domestic abusers.  Rosie thinks they would have gotten a more emotional response if they had shown an act of domestic violence instead of a woman being tackled for 1/8th of a second on a football field. Nicolle felt like the ad highlighted the collision of the two issues – football and domestic violence.
Idol Banter: American Idol winner Phillip Phillips is suing the show's production in an attempt to escape his oppressive contract that he felt manipulated him into accepting jobs that hurt his career.  Rosie said the contract reminded her of the "old studio system" where they would sign actors for one movie and then commit you for a five year deal with the studio.  Then the studio would "lend" you out to other studios.  She sort of understood what Phillip was saying.  Back in the day, Rosie was on a show called Star Search that launched many careers.  But, she said, there was no obligation to Star Search after you won.  She doesn't think American Idol should have the right to own the talent of the entertainers for five years when they're already getting them to perform for free on TV.  Nicolle read the show's response which stated that the company has always acted in the best interest of Phillip and they're proud of everything they've accomplished together.  They also said they would vigorously defend themselves against the accusation that they haven't always had Phillip's best interest in mind.  Nicolle thinks maybe there should be a middle ground because she said she never would have bought Phillip's CD if it wasn't for the show.  Michaela who works on Saturday Night Live said one could say the same thing about that show launching the careers of actors.  She said you don't get rich performing on SNL but you do get famous and the show doesn't own you afterwards.  She thinks the artist should have the right to choose whether to have the show act as manager.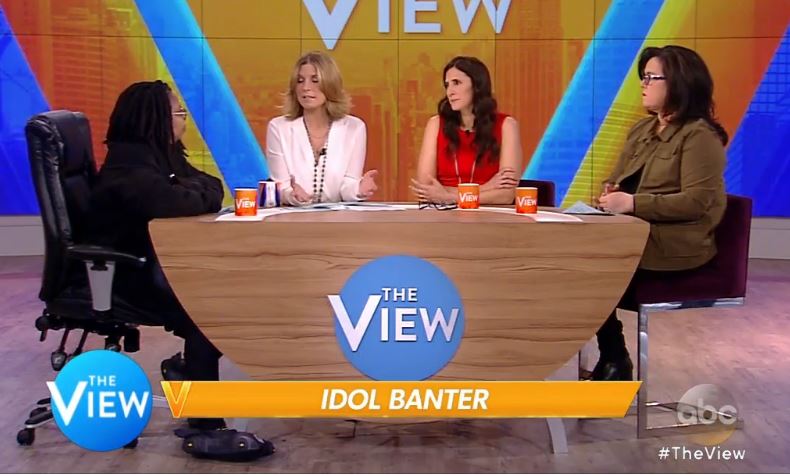 Family Values: Alabama's only openly gay legislator Patricia Todd said she will expose politicians having extramarital affairs trying to block the state's marriage equality bill who cite family values as their reason.  Michaela thinks they are totally separate issues and we should make gay marriage legal because it's the right thing to do not because we're holding someone hostage.  Nicolle thinks Patricia's point is that in politics, there's a lot of hypocrisy and politicians who hold "family values" as their reasoning shouldn't have that right if they don't hold "family values" in their own lives.  Rosie thinks you never want to become what you loathe but you should aim to rise above it.  She understands Patricia's anger and her reasoning but doesn't think it's a morality contest.  Rosie said simply, "Equality is about the Constitution and everybody should have the same rights."
Zombie Cat: Bart the cat, who was hit by a car and presumed dead so his owner buried him, has risen from the dead!   For 5 days the family mourned the cat's passing and then suddenly Bart showed up!  He actually dug himself out of the grave!  He was taken to a vet and though he may lose an eye, they expect him to recover.
Guests:
Oscar Isaac:  Oscar stars as an honest business man who will not bow to organized crime in A Most Violent Year.  Rosie first saw Oscar in Madonna's film W.E. and she was surprised he was American because he did such a convincing accent in the film!  Oscar said his second language is Spanish but he moved to the United States when he was 3-years-old.  The film A Most Violent Year is set in 1981 which was statistically one of the most violent years in New York's history.  Jessica Chastain co-stars with Oscar in the film and he said they are longtime friends.  They went to Julliard together and they have always stayed in contact since school.  When the actor who was originally cast on the film backed out of the project, Jessica pitched him to the Director and he got the job!  A Most Violent Year will be in theaters nationwide on Friday (Jan. 30th). Go see it!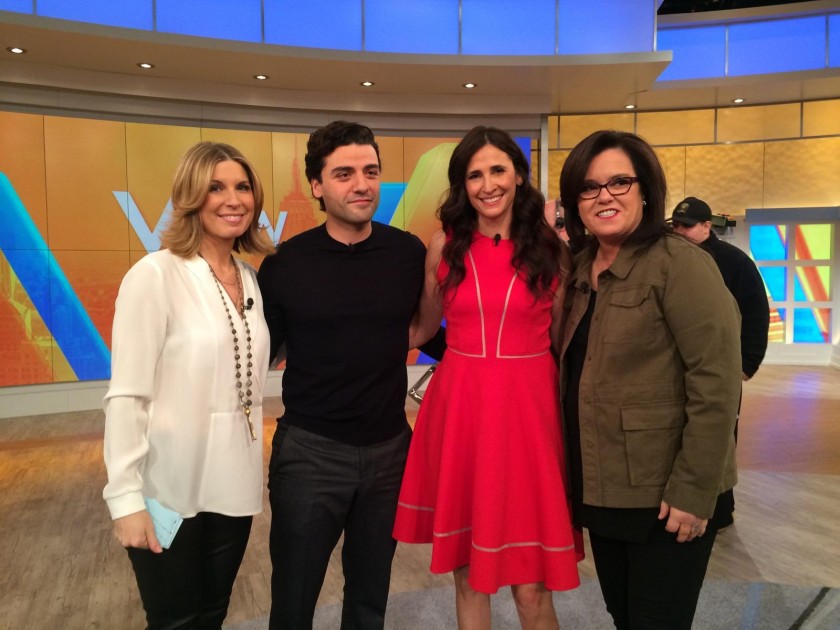 Master Baking with Mario: Mario Cantone and Rosie made banana bread together!  He told her he is sick of her Frozen and making him craft.  He said she's making him into a lesbian so he's making her bake with him as a payback!  Rosie admitted the only thing she knows how to bake is slice and bake Nestle Toll House cookies.  Mario said, "That's cheating!"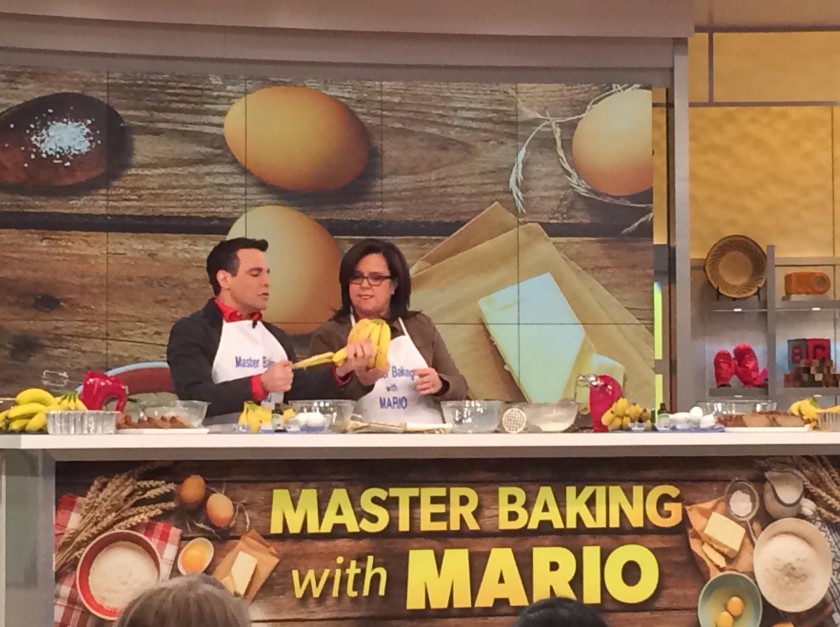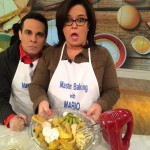 To make Mario's banana bread:  Take 8 ripe bananas and mash them in a bowl.  In another bowl, sift together 2 cups of flour, ¾ of a teaspoon of baking soda, 2 teaspoons of baking powder and 1¼ teaspoon of salt.  In another bowl cream together 1 ¾ cup of sugar and 2 sticks of soft butter.  Add 3 eggs to the sugar/butter mixture and continue mixing.  Combine all the ingredients together and mix thoroughly.  Pour banana bread mixture into two greased banana bread loaf pans.  Bake at 325 degrees for 1 hour and 50 minutes.
If you're in New York City, Mario sells his banana bread at Stone Street Coffee on 19th Street and 9th Avenue in New York City!
Take a little time to enjoy The View!
written by Kelly Weist
KidRo Productions