Happy Martin Luther King Jr. Day!  Today Rosie and Nicolle were joined by Mario Cantone, Naya Rivera and former Spice Girl and America's Got Talent judge Mel B!  Rosie Perez is still rehearsing her Broadway play and the Whoop-ster will be back tomorrow!
Rosie told Mel B what a fun time she had when she visited America's Got Talent last year and performed a magic trick with Howard Stern and Mat Franco.  Watch the clip below!  Mel B said she loves being a judge on America's Got Talent.  She called it a "nice, humble, family show."
Hot Topics: 
To Tell the Truth:  The panel discussed how to handle it when a friend comments that they think they're fat around you.  Research says it's better to tell your friend they look great rather than pointing out a weight issue.  It turns out, agreeing with them won't motivate them to lose weight.  Rosie said no heavy person has ever asked her if they look fat and she's never asked anyone if they think she looks fat.  But every thin person she knows has asked her if she thinks they look fat!  In general, she thinks people in single-digit sized clothing shouldn't ask if they look overweight.  Mario said this phenomenon is because people today are "weight obsessed."  His best friend is a beautiful woman who is always commenting how fat she looks around him.  He said she looks magnificent and super thin, so much so that her abs are poking out!  Naya thinks people comment that they think they "look fat" because oftentimes they're seeking a compliment.  Nicolle thinks the answer to the question, "Do I look fat?" should always be the same, that you look beautiful.  But Mel B believes your friends should be honest with you.  Nicolle thinks honesty is "totally overrated."  That comment made Rosie laugh hysterically and she said, "Nicolle, you can't leave me an opening like that!"  Nicolle clarified her comment and explained that she meant "honesty is totally overrated" when it comes to weight issues.  Naya has a friend who always comments on how fat she feels so Naya offers to go to the gym with her and the friend never takes her up on it.  She thinks her friend is just fishing for a compliment when she comments about her own weight.  Mario said the way he feels about his body differs from day-to-day.  And Mel B doesn't like the "F" word, in general.
Nothing or Everything in Common: The hosts then discussed if they have a lot in common with their spouses.  Mel B said she doesn't have a lot in common with her spouse but she likes him a lot!  Nicolle said she's an extrovert and her husband is more of an introvert, but they learn from each other.  Mario believes in the "yin and the yang" in a relationship and said his husband "calms him down."  Last night, Mario and his husband met Naya and her husband for dinner and she noticed a similarity between Mario's relationship and hers.  She said she and Mario are very much the extroverts in their duos, while their spouses were the more grounded ones.  Rosie said she and her wife Michelle have taught each other a lot too.  She said Michelle has really helped Rosie realize more about her body because Michelle is very into her health.  And in turn, Rosie has helped Michelle out with her shyness.
Glitter-Bombed:  A member of the studio audience handed an envelope to Mario with a glitter-bomb in it!  Mario absolutely hated it.  He joked that it felt as bad as an "Anthrax attack" would.  Nicolle said there's a company that delivers glitter-bombs on your behalf.  She called it a "potent political weapon."  Several Republicans have been glitter-bombed for being anti-gay and Nicolle thinks it's a "beautiful way to protest."  She said, "If that's the worst thing that happens to those politicians, they're lucky."
Special Delivery: Mel B's eldest daughter wanted to be at the birth of her youngest, who is now 3-years-old.  Mel B allowed her daughter to be present as long as she promised to stay up by her head.  But during the birth, Mel's daughter ended up witnessing the actual birth itself and it terrified her.  There's a debate about whether kids should witness this type of thing and for Mel, she thought birth was a natural thing and therefore okay to experience even at a younger age.  Nicolle wanted her husband to be present at their son's birth, but said she wanted him "north of the 50-yard-line."  Naya agreed.  She said her mother told Naya her sex life was never the same after her father saw their children being born.  Nicolle said it took her 7 years to convince herself she wanted to have a baby after she saw the movie Knocked Up because of the birthing scene!  She was traumatized!  Rosie's been to two births and she found it quite beautiful.   In fact, she said "it was the most beautiful thing she's ever seen" in her life to "witness a human come out of another human."
In Hindsight: There's a new item available on Etsy entitled Rear Gear.  It's an accessory you can put over your dogs' butt to hide their butt-hole.  The tag line is "No more Mr. Brown Eye."  Naya thinks it's animal cruelty.  She wondered if it hurt the dog when they took it off, like pulling a Band-Aid off your arm.  She said, "If you don't want to look at a dog's butt-hole don't get a fricking dog."  Mario prefers a long-haired dog for this exact reason.
Guests: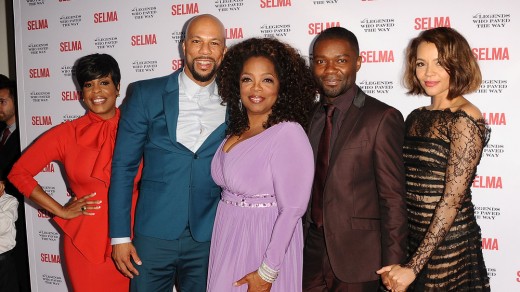 The Stars of Selma:  The movie Selma is a powerful depiction of Dr. King's campaign to secure equal voting rights in the face of violence and hatred.  David Oyelowo (pictured just to the right of Ms. Winfrey), Carmen Ejogo (pictured far right) and Common (pictured just to the left of Ms. Winfrey) joined the hosts to discuss this important film.   David said the experience of playing Martin Luther King has been surreal for him.  He still cannot believe they were able to get the movie made and that he was able to play such an extraordinary human being.  David first read the script in 2007 and spent the next 7 years studying Dr. King.  He said his career has been a journey to come to this point.  He's played a union soldier in the movie Lincoln, a preacher in The Help, the son of a butler in The Butler, and an African-American fighter pilot in Red Tails.  He said all of these roles have encompassed 150 years of what it is to be black in this country.  Carmen said there was much less available for her to study in order for her to learn about Coretta Scott King.  But what she learned was that Coretta was much more than a mom and a wife.  She was an academic, a singer, and an incredibly strong woman.  In Carmen's opinion, it's an even greater testament to her strength that Ms. King could remain serene and dignified while having to stay in the background.  David said Dr. King attributes his engagement with the civil rights movement to his wife.  He was on a path to become a preacher and Coretta grew up in Alabama where she experienced a lot of racism.  Common said he was very grateful to be a part of this film.  He said the film is much more than a movie, it's a movement.  He said it has a lot of relevance with what's going on right now in this country and the world.  Common plays James Bevel who contributed greatly towards King's civil rights movement.  He said Selma is not only about Dr. King but also about all of the people who helped create change.  He said it's about people refusing to accept civil rights not being adhered to and coming together with strategy, love and diligence in order to change the world.  Rosie watched the film  with her teens and her youngest said to her, "Mommy, this is still happening right now."  Common said Selma is "like a blueprint" of what we can do to peacefully create progress and change.  Carmen said peaceful protest can work and have an impact that is policy changing.  Rosie called the film Selma "a beautiful and important film" and she hopes everyone sees it.  Selma is in theaters now!
Mara Schiavocampo: Like millions of people, ABC News correspondent Mara Schiavocampo struggled with her weight .  In her new book Thinspired, Mara shares how she finally developed a healthy relationship with food which helped her lose 90 pounds!  It took her two years to lose the weight and she has maintained her weight loss for a year now.  One of the biggest things Mara learned was that she had to get her food under control so she developed a plan that focused 70% of her efforts on cleaning up her diet.  10% of her efforts were focused on getting more sleep, 10% were dedicated to exercise and 10% of her efforts were dedicated towards planning out her week.  Mara has been heavy her entire life and this was the first time she's ever felt freedom over the demons of food.  As an overweight child, Mara said she was always blamed for being overweight and yet the people criticizing her were not leading by example.  She wanted to lead by example for her own daughter so she decided she had to make a change.
Mara said for her, she found there were some foods she could not eat in moderation.  Certain foods always sent her into a spiral, similar to an alcoholic.  The foods she had to eliminate were flour, dairy and wine.  They were addictive and she was abusing them.  She didn't want to be a part of an abusive relationship anymore so now she only indulges in foods she has a good relationship with.  She reaches for cocoa-dusted almonds instead of M&Ms, cookies made with avocado instead of butter and marshmallows when she wants something sweet.  Marshmallows are just 20 calories and they're made out of egg whites and sugar!  She also likes meringues, which are also just egg whites and sugar.    Mara loves to bake and she recommended using almond flour, apple sauce instead of oil, avocado instead of butter and dates instead of molasses.  Mara now focuses on purchasing fresh foods instead of packaged and processed foods.  Everyone in the audience received a copy of Mara's book!
Lee Ann Womack: Lee Ann Womack's latest album, The Way I'm Livin, has just been nominated for a Grammy!  Her husband produced the album with her and she's about to start a tour.  You can find out more about her tour dates on her website here.  Lee Ann performed The Way I'm Livin for the audience.
Audience Giveaway: Members of the studio audience went home with a copy of Thinspired by Mara Schiavocampo and a copy of The Way I'm Livin by Lee Ann Womack.
Take a little time to enjoy The View!
written by Kelly Weist
KidRo Productions