Today, Nicolle and Rosie were joined by guest co-hosts Naya Rivera, Mario Cantone and Funny or Die's 'Billy on the Street's Bill Eichner.  Whoopi will be back on Tuesday  (1/20).  She has been recovering from a very painful, herniated disc and Rosie Perez WILL BE BACK AT THE END OF THE MONTH when she's done rehearsing her play Fish in the Dark (no matter what you read on the Internet).  Rosie said she read the rumor on the Internet last night that Perez was leaving the show and she was like "What the fuck?!"  Rosie said the rumor is NOT true,  Rosie P is coming back!
Hot topics:
Oscar Nominations:  The hosts discussed the Oscar nominations (and snubs).  Naya was really surprised that the film St. Vincent didn't receive any nominations.  Rosie agreed.  Both Naya and Rosie sobbed when they saw the film.  Selma got nominated for Best Picture but the female Director did not get a nomination, which surprised some people.  It reminded Rosie when Yentl got nominated for Best Picture but Barbra Streisand was not nominated for Best Director.  She said it seemed a little sexist to her.  Mario said when Steven Spielberg's The Color Purple got nominated for 11 Academy Awards he didn't get nominated for Best Director either.  Nicolle was very happy American Sniper got some nominations. She called it the "best and most important movie" she's seen in a really long time.  She loved the film because of how it depicted the American solider as a complex individual who is both heartbroken and intelligent, not "either/or."  She appreciated its depiction of the American solider who believes in protecting their homeland as well as trying to be a good husband and father.  She also thinks it's an extraordinary piece of work because it was written by a soldier who wrote a book depicting his story but then was killed by a mentally ill veteran before the movie was ever made.  Rosie said many, many veterans come back from war with severe mental illness and they are not getting the treatment they need.  Nicolle recommended the book entitled Thank You for Your Service by David Finkel that is about the PTSD crisis in the military.  Rosie thought the film American Solider white-washed over the amount of PTSD the main character experienced.  Nicolle didn't think the film did that but admitted she read the book the film was based on before she saw the movie so she may have conflated the two.
The entire panel was surprised Jennifer Aniston was snubbed for her work in the film Cake.  Billy said the nominees aren't the most glamorous list of actors.  He's not really looking forward to seeing what Robert Duvall is going to wear to the award show, for example.  He would have liked to see Jennifer Aniston there.   Rosie mentioned a scene in the movie The Judge where Robert Duvall's character, who is getting older, has a bathroom accident and his son, played by Robert Downey, Jr., carries him into the shower.  She called it "the most beautiful scene."  Naya would have also loved to see Angelina Jolie on the red carpet but she wasn't nominated for Best Director for her film Unbroken.  And Mario mentioned how none of the actors in the movie Selma were nominated.  Billy was surprised The Lego Movie wasn't nominated for Best Animated Film.  Regarding documentaries, Rosie was happy Rory Kennedy was nominated for The Last Days in Vietnam, which Rosie thinks is, "one of the most profound documentaries ever made."  She was sad that Glenn Campbell's documentary I'll Be Me was not nominated.  She said she watched it three times and, "It had me sobbing in my bed."  She recommended everyone see it.
Mountain Do: Two mountain climbers were the first people ever to "free-climb" El Capitan.  Everyone thought the pictures of the climbers sleeping on the side of the mountain were terrifying.  Rosie thinks this should be punishment to prisoners!  Billy said, "That's very North-Korean of you."  She actually agreed but her point was that it seems more like a punishment than anything else.  Mario said he would have needed Depends, a puke bag, booze and pills to get through that experience.   Nicolle is from California and her mother was obsessed with camping.  She said a lot of people try this climb that mountain and never make it.  She knows what the climbers achieved was a huge accomplishment.  Rosie recommended Amazon Prime to see some of the great documentaries that have been released about climbing.
A brief Interruption: Justin Bieber just posted a new photo of himself on his Instagram because people were saying that he was airbrushed in the Calvin Klein ads.  Billy thinks he looks fine and doesn't care if he was airbrushed or not.  He said everyone gets photo-shopped nowadays.  He thought it was much ado about nothing.  Nicolle said she wants to be photo-shopped to look like she has abs too and Rosie offered to to it for her!  Naya thinks Bieber is annoying to post a shirtless photo of himself. She said he looks like a "douchebag."  And she said girls don't want to date guys who are constantly looking at themselves in the mirror.  She said, "Go fix something in the house.  That's hotter."  Nicolle thinks Biebs is "a tool" and probably can't fix anything in the house.  Mario just thinks he's a child with a lot of money but doesn't care much about talking about him so he wanted to move on.
Palin Doesn't Give a Flip: Sarah Palin just said she doesn't give a "flying flip" if a woman ends up in the White House and apparently less than a third of Americans care if there is a woman President in their lifetimes.  Billy said, "Why is she still talking?  Sarah Palin is like a sitcom that you're like, 'Wow, that's still on the air?'"  Nicolle said Palin said she didn't give a flip but then went on to say how great it would be if a woman threw her hat into the ring.  Nicolle said when Palin ran for Vice President she felt a real kinship with Hillary Clinton and what she'd been through.  But the lack of caring about a woman President troubled Nicolle.  Nicolle is "obsessed" with the idea of a woman President in her lifetime.  Of course, she would like her to be a Republican but women have to decide if it matters to have a woman in the job.  She said, "Look at Washington.  What are we going to do, screw it up?  Women should be given a chance!"  Mario said Palin reminds him of "Kathy Bates in Misery."
I Don't Want to See That:  This week's episode of the HBO hit series Girls has actress Allison Williams in a graphic sex scene that everyone's been talking about.  The actress admitted to watching the season premiere with her dad, Brian Williams!  Naya was "kind of appalled" because she said it looked like they were doing "it" for real.  She was sure there was no way they could have been "acting" that scene.  As a television actress, Naya said she always has her husband, her parents and her in-laws in mind when she chooses a role.  She said her choices aren't all about her but they're also about how they will affect the other people in her life.  She would feel uncomfortable knowing people saw her doing that. Here is a LINK to the scene.  Warning, it's graphic. 
Rosie did a sex scene with the very handsome Julian McMahon on the series Nip/Tuck.  She said Julian wore a "cock-sock" and she laid on the bed in a tiny tube-top and bottoms.  She looked up and saw him standing with nothing else on but his "sock" and thought, "Oh my God, you look like Superman!"  She said it was very intimidating and there were tons of people around.  At one point, she had to take off her tube-top because you could see it in the shot, so she had to be topless!  Rosie said her kids watch a show called Skins and they pause it whenever she walks in the room.  They get very embarrassed when she's in the room and a sex scene comes on.  Mario thinks Allison and her father must have a really great relationship to watch the scene like that together.  Nicolle can't even watch a Cialis commercial or tampon ad with her parents in the room without feeling uncomfortable.
Here's Rosie discussing her sex scene with Julian McMahon back on The View in 2006!
Guests:
Marisa Tomei: Oscar winner Marisa Tomei, is the star and producer of the new movie entitled Loitering With Intent, where her country house getaway turns ugly.  This is the first movie she's produced!  She said the two writers and fellow producers are friends of hers and they brought the script to her.  She spoke to the hosts about the film as well as her experience on Broadway in The Realistic Joneses.  Marisa said she loves doing theater and hopes to do it again.  She talked briefly about her Celine campaign where she doesn't wear any makeup.  She typically finds photo-shoots tedious but she said the photo-shoot for Celine was a pleasure to do. Since it was Oscar nomination day, the hosts asked Marisa if she remembered anything from the day she won her Oscar.  She remembers the entire experience fondly but said she gets more nervous with every nomination.  Loitering With Intent premieres in theaters January 16th but you can see it on iTunes and Amazon today!
Amanda Peet:  Amanda stars in the new HBO series Togetherness as a single woman who has a tough time connecting with people sometimes.  Amanda said she's obsessed with Nicolle because her best friend is Sarah Paulson, who played Nicolle in the movie Game Change.  Because of this, Amanda sort of feels like she already knows Nicolle.  Nicolle was as excited to meet Amanda as Amanda was to meet her.  In Togetherness, Amanda plays a woman who is a "hot mess" when it comes to dating.  Amanda described her character as "desperate" and someone who wears clothing that isn't age appropriate.  Amanda told a hilarious story of how she met her husband, who is one of the co-creators of the hit show Game of Thrones.  Amanda and her husband met on a blind date set up by a mutual friend.  After the date, both of them thought it went well but they decided to prank the mutual friend by saying that David, her now husband, started crying during the date over his ex-girlfriend.  Amanda has a children's book entitled Dear Santa, Love, Rachel Rosenstein that comes out later this year.  Catch Togetherness on Sunday nights at 9:30 on HBO.
YouTube Star: About a year ago, someone abandoned a spunky little puppy and he wandered the streets of Miami alone until he was picked up by a rescue shelter.  All that pent up energy turned him into a YouTube sensation as well as the star of the show Opening Night Critters at Busch Gardens, Tampa.  Teller, the rescue dog, performed some amazing tricks for the studio audience!  At the end of his performance he raised a banner that said, "Give rescue dogs a chance!"  Joel, Teller's trainer and owner, joined Rosie and Naya to discuss Teller and how he found and trained him.  Joel said all the dogs, cats, pigs, ducks, rats, pigeons, etc. in the show are rescues.  You can catch Teller at Opening Night Critters at Busch Gardens, Tampa!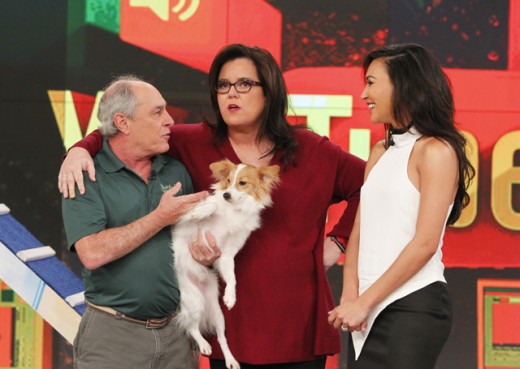 Take a little time and enjoy The View!
written by Kelly Weist
KidRo Productions