Today on The View Rosie P was still in rehearsals for her Broadway show and Whoopi is out with a back injury.  Joining Rosie O and Nicolle on today's panel were Nikki Glaser, Mario Cantone, and Michelle Williams (formerly of Destiny's Child) who all entered the stage to the rhythms of Michelle's new CD, Journey to Freedom.
Hot Topics: 
Golden Globes Dish: Tina Fey and Amy Poehler really went for it last night as hosts of the Golden Globes! Everyone was in agreement. They showed a clip of the duo poking fun at Bill Cosby and several other highlights.  Rosie called the women "brave, funny and smart." Nicolle said loves award shows and said watching the Golden Globes is like an event in her house.  She loved how in love George Clooney is with his wife.  Michelle hopes Clooney's love for his wife clues other women in, that they don't have a chance with him anymore.  To which Nikki quipped that "she will age, and they will have a chance."  Nikki's joke made Rosie laugh so hard she dropped the "f" bomb!  They were all touched by Michael Keaton's tribute to his best friend, his son.  Mario believes the tribute, which made Nicolle cry, reflects that they have gone through something very deep and meaningful together.  He also noted that between the spray-tans and the heat in the room, all the actors were so sweaty they looked like basted turkeys!   They discussed Catherine Zeta Jones and Jennifer Lopez's looks for the evening.  And Mario joked that Prince looked like one of his Italian aunts, but everyone agreed he is an icon.
Message From Whoopi: Today viewers got a message from Whoopi from her hospital bed, which you can watch on The View's Facebook page.  Nicolle went to visit her in the hospital over the weekend and declared her to be "fiery, feisty, and hilarious."
Rosie's Weekend: Rosie almost went to the hospital herself this weekend because of stomach pains and then concluded it was because of her "squat/thrust AKA take a poop, reach for the sky" workout on Thursday's show.  The workout sent her stomach muscles into seizure practically.  She concluded that if she continued to do that workout, she would look like Pink in about three weeks.   Nikki recently fired her trainer because all she was doing was paying someone to teach her "new ways to hold in a fart."  Rosie quoted her Nana, "Wherever you shall be, let your wind go free."
Coded Beyonce Instagram Pic: Beyonce recently posted a picture on Instagram of her buried in sand with a mound of sand on her belly that makes her appear to be pregnant.  Michelle gave the inside scoop on Beyonce saying there is no truth to the rumor that she is pregnant.
United in Paris:  World leaders united in Paris over the weekend to show support over last week's terror attacks.  The U.S. is getting a lot of criticism for not having a top official present.  Nicolle reminded viewers that when the President goes anywhere, thousands of people go with him and she assumed a decision was made that his presence would take away from the event itself.  She said the event was "exquisite" and she bawled when watching the unity march on TV.  She noted that the leader of Jordan (who is a direct descendent of the Prophet who was ridiculed in the magazine) linked arms with the Israeli Prime Minister Benjamin Netanyahu.  The diverse crowd created an incredible moment to witness. Nicolle did say we should have done a better job and had someone there, but that doesn't take away from the significance of the event.  Mario said that the fact this happened at a comedy magazine really affected him as a comedian.  Nikki joked that the picture of the leaders with linked arms looked like "the most intense game of red rover" she's ever seen in her life.
Remembering Taylor Negron:  Taylor Negron, who was a friend of both Rosie's and Mario's, passed away over the weekend. Mario said he just adored him.  He said no one made him laugh more than him.  He referenced an article Taylor wrote where he referred to himself as "not famous, but fame-ish."  He warned people not to write "R.I.P. Taylor" on any social media as readers would think Rip Taylor died [again]. Everyone agreed that he was brilliant.
50 Shades of Grey: Actor Jamie Dornan is playing Christian Grey in the film and he said he's worried he will be killed by an obsessed fan like John Lennon was, if they don't like his performance.  Rosie advised Jamie that he not put those thoughts out into the world.  She said, "Only put into the world things you want to attract towards you.  Don't put out negative things because the universe works with the law of attraction."  And Nikki thinks Jamie shouldn't be comparing himself to John Lennon.  Nicolle wanted to know what the deal was with the books and Rosie referred to them as basically "soft porn S&M bondage books."  Mario said it can be a little scary to be out in the public sometimes when you're a celebrity and he kind of understood the fear of the obsessed fan.  Michelle thought maybe that was just one of those thoughts Jamie shouldn't have said out loud.
Nicolle's Puppy:  Nicolle introduced the audience to her new puppy, a Vizsla named Honey!  She said the real heroes are the ones who rescue dogs.  She admitted she's not a hero, she's just in love with the breed.  Her older dog, Lily, is actually related to the puppy (her Great-Great-Aunt) though Lily is not so fond of the new puppy just yet.
Guests:
Doctor Oz Two Week Rapid Weight Loss Plan:  Nearly two million people are already on board with Dr. Oz's Top 10 Rapid Weight Loss Plan and he came to The View to show them how it works!  He said his show has helped millions of people lose millions of pounds of weight.  The diet stresses eliminating refined sugars, artificial sweeteners, wheat, dairy and alcohol.  In its place he suggests drinking hot water with lemon every morning, which cleanses your system.  He suggested drinking the lemon water instead of coffee, if you can.  He said to make a smoothie for breakfast with protein powder and fresh or frozen berries.  And the diet stresses the importance of protein and tons of vegetables in your other meals.  Rosie drinks the hot lemon water every morning and she confirmed that drinking vegetable broth helps turn off cravings.  Oz also recommended tree nuts (not peanuts), nut butter and pickles.
On line Superstars and The Electric Violist: Lindsey Stirling the electric violinist, has racked up over 700 million views on YouTube!  She joked that it is easy to be the best at what you do if you are the only that does it.  And Lindsey believes people "gravitate to authenticity."  Michelle mentioned how Lindsey has overcome a lot of rejection especially after being voted off of American's Got Talent by Piers Morgan.  But Lindsey was quick to point out that she is still on TV and he isn't!  She gave a WOW amazing performance.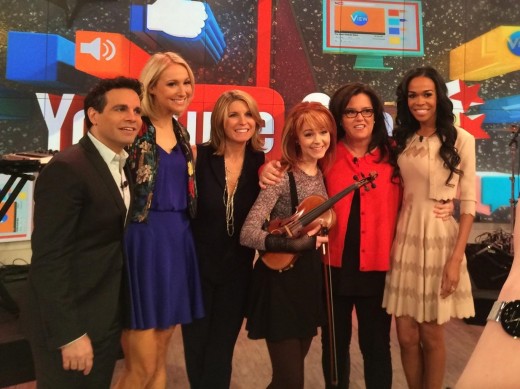 As a side note, mark your calendars!  Rosie's HBO Documentary: Rosie O'Donnell: A Heartfelt Stand Up will air on HBO on 2/14 at 10PM EST!
Take a little time to enjoy The View!
written by Kelly Weist
KidRo Productions