Hot Topics: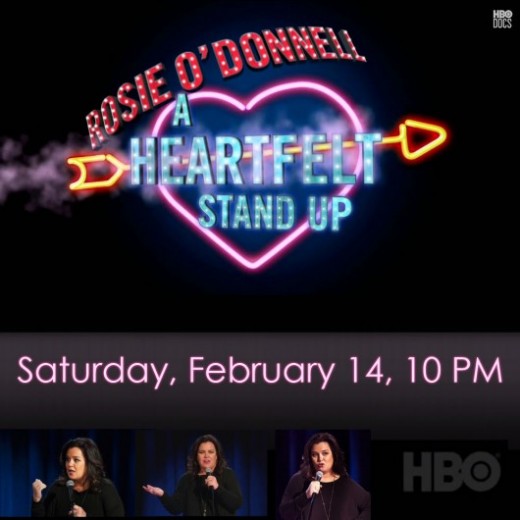 Rosie O's Heartfelt Message: Rosie O discussed her documentary premiere this weekend!  Rosie O'Donnell: A Heartfelt Standup premiered at the Athena Film Festival at Barnard College on Saturday night.  Rosie O discussed the premiere as well as her admiration for HBO Documentary Films President Sheila Nevins, who received an award for her work.  Rosie O taught the audience the acronym she created, H.E.P.P.P. (which stands for Hot Exhausted Pain Pale Puke), to remind people of the symptoms of a heart attack in women.  Everyone in the audience received a H.E.P.P.P. bracelet!  The documentary A Heartfelt Standup premieres this Saturday, February 14th at 10pm EST on HBO.
Rosie O said she never imagined she would become a spokesperson for heart health.  Her mother died from breast cancer and she always thought that would be her fate too.  During the days of The Rosie O'Donnell Show, Rosie would heavily promote breast cancer awareness.  She is still a passionate spokesperson for breast health but while breast cancer kills 30,000 women every year, 300,000 women die every year of heart disease.  It is the number 1 killer of women, more than all cancers combined.  "I almost died. I don't want you to die, so watch it will ya?" Rosie O said.  Nicolle admitted to paying greater attention to her heart now that Rosie O has shined a light on heart disease and its symptoms.  Rosie P loved Rosie O's special and said she's "freakin hilarious" in it!  Watch A Heartfelt Standup this SATURDAY, February 14th on HBO! 
Anchor Away:  NBC news anchor Brian Williams announced he's going to step down for several days because of his false claim that he was shot down in a helicopter over Iraq.  Nicolle worked in public relations in politics and thinks this is between Brian Williams and the viewers of his newscasts.  She mentioned an interesting article in the New York Times which raises the idea of an outside investigation.  Nicolle thinks we need to go back and look at Williams' entire body of work before we pass judgment.  Rosie P doesn't think we should wipe away his entire career of work because of one lie. She would like Williams to stand up, admit his mistake and apologize.  But Rosie O thinks because of the nature of his job, being a trusted news person, Brian has to have the trust of the public in order to do his job well.  She mentioned Walter Cronkite whom she referred to as the most trusted man in America, and the time he took off his glasses and said, "There's no way to win this war."  (In regards to the Vietnam War.)  She believes the people must have the trust of the newscasters who bring them the news and she thinks Williams' credibility is now in question.  Whoopi thinks this is why people switch to the BBC news because so many people in this country don't trust the folks giving us the news because it's now opinion-based.  Rosie O also believes the slanted news is because news organizations are now corporatley owned.  She referred to the Fourth Estate which she said is supposed to keep democracy in balance.  But if only 5 corporations own all the media, the people will only get a view that enhances the corporation's financial bottom line.  Nicolle pointed out that this story came to light because a handful of guys on the helicopter actually did get shot down and revealed the truth through social media.  She said the corporations met their match because of them!  And Rosie O thinks this is why net neutrality is so important, because it's the only true unbiased news source not supporting a corporation's values. But Rosie P thinks there are a lot of lies on the internet too.
Music's Biggest Night:   The Grammy awards were last night and the hosts discussed some of the outstanding and memorable performances.  Rosie O loves Kanye and that he sang the beautiful song about his late mother but then she said, as Whoopi would say, he stepped in "doo-doo."   (when Kanye said Beck should give his award to Beyoncé)  Whoopi called Kanye out and said he knows what it's like to be an artist and have someone question your talent.  She thinks Beck's album is "pretty damn good."  And she thinks since Beyoncé collected 3 Grammys, it's pretty rough for him to say Beck isn't a real artist.  Rosie P thinks Kanye also put Beyoncé in a tough position because what he said now makes people start to compare Beck to Beyoncé.  She thinks Beck and Beyoncé are both good artists, and even Kanye, who she called "cuckoo for coca puffs."   Nicolle thought Kanye's wife looked embarrassed by his comments.  And Nicolle thought Madonna's butt looked as good as it's ever looked.   The only time Rosie O had ever seen Madonna's butt was last night but she also thought it looked pretty great!  She said if her ass looked like that she'd be naked right now!  Rosie P also thought Madonna's ass looked great.  And Rosie O thought Kristen Wiig's performance during Sia's song was "unbelievable!"  Rosie O explained how Sia doesn't like to be in the spotlight while singing so she created beautiful performance pieces with actors and friends who perform for her.
Guests:
Ashley Graham: Ashley Graham, who is a plus-sized model appearing in this year's Sports Illustrated issue, joined the ladies at the table to discuss her recent appearance in the magazine.  People are cheering that it's a huge step forward for the modeling industry but some people are criticizing that Ashley didn't get her own spread.   Ashley feels like they're making history by putting FULL curves in Sports Illustrated! Ashley explained that in the modeling industry "plus-sized" goes from a size 8 to an 18.  She has been modelling for 15 years and has always been considered plus-sized but she's always "owned it."  She said if you tweet or share your plus-sized photo of your curves in a bikini she will "regram" it!  It's a campaign they're doing for Swimsuits for All.  Ashley said she's not disappointed she doesn't have a spread in the magazine this year she said she'll be on THE COVER next year!  (she hopes!) Ashley said, "Curves are in, curves are sexy!"
Spike Lee:  Spike Lee just received an honor at the NAACP Image Awards and he has a brand new film entitled The Sweet Blood of Jesus.   Rosie P and Spike discussed the film Do the Right Thing and its relevance to racial issues we're facing today.  Spike said his new film is a reimagination of a cult film from the 1970s funded through a Kickstarter fundraising campaign.   Rosie P and Spike joked about the two different versions of the story of how they met and Rosie P thanked Spike for launching her career.  Watch the trailer to Sweet Blood of Jesus below:
Victor Rasuk:  Victor plays Anastasia's best friend and love rival in the film Fifty Shades of Grey.  He really enjoyed how the character chose to remain friends with Anastasia even after she rejects him for Christian Grey.  Victor is also in a new show entitled Stalker on CBS.  He said the show Stalker is not about exploiting the victims of stalking but about showing viewers, if you're a victim of stalking, that you have rights and how to protect yourself.    Stalker airs Wednesdays at 10pm on CBS and Fifty Shades of Grey opens nationwide this Friday!
Audience Giveaway:  Everyone in the studio audience received a H.E.P.P.P bracelet (an acronym to remember the signs of a heart attack in women) and each woman in the studio audience received a swimsuit from Swimsuits for All!  Everyone also received a copy of Disney's 101 Dalmatians: Diamond Edition on DVD!
Take a little time to enjoy The View!
Don't forget to watch Ro's Doc this Saturday, at 10PM on HBO!  
written by Kelly Weist
KidRo Productions