Today our hosts were celebrating Nicolle's birthday and Cristela Alonzo joined the panel as a co-host.
Hot Topics:
Lance Lies: Lance Armstrong lies again?  Turns out Lance is letting his girlfriend take the blame for hitting two parked cars while partying in Colorado.  "Will this damage his reputation?" Whoopi asked. "A little late," said Rosie O, who has watched the documentary about him, The Armstrong Lie, and said this story didn't surprise her.  She added, "He does not seem to be a man with a moral compass.  Nicolle said that we are a country that allows people to redeem themselves, but [Armstrong] seems to pass up every opportunity for redemption.  Cristela said that it is weird that he is willing to take responsibility for drinking, but not for what he does when he's drunk and that she is going to scratch off the V on her Livestrong bracelet so it just reads "LIEstrong."  Rosie O wondered what kind of magical spell he has over women.  Whoopi doesn't think we should blame Lance for people believing his lies.  She thinks the blame also falls on the people willing to lie for him.  But Rosie O asked again, "What kind of spell does he have?" Nicolle answered, "Fame and money."  She said she thinks he is a sociopath.  Rosie P said, "You can lead a horse to water, but you can't make them drink and this woman drank the Kool-Aid."
Charlie Sifford 1922-1915:  Mr. Sifford has passed away at the age of 90.  He was the first black PGA tour member.  Rosie P noted that his book, Just Let Me Play, is out of print and it should be put back in print!  The book details what he went through in combating the "Caucasian only" clause in the PGA when he began his career in golf.  Charlie met Jackie Robinson who asked him, "Are you a quitter?" and he responded, "No."  Jackie told him to "prepare to endure."  And Tiger Woods has said that without Sifford, he would never have been a golfer; Sifford was his idol.  Rosie P met Mr. Sifford once and said that he was the sweetest man and offered sympathies to his family.  Whoopi called on Amazon to put the book back in print!
Three Parents and a Baby:  UK courts are weighing the decision made by parliament to use the DNA from three parents to create a baby free from defects.  Whoopi said there is some resistance in that this act may lead to "designer babies."  Nicolle says that having babies in your late thirties and early forties is terrifying and she thinks anything we can do to have a healthy baby is okay.  Rosie P said there was resistance to the use of aspirin when it first came out and now we know that it can help with a heart attack.  Rosie O held up her hand, as aspirin helped save her life.  Rosie P noted that if diabetes runs in your family, you would want to have a child without diabetes, if you could.  She also noted that the mitochondria that is in all cells is very specific as to what it can change and that it comes from the mother, which is why the third parent in the three parent arrangement is always a woman.  Whoopi wanted to know how this relates to stem cell research and everyone agreed they are all for stem cell research.  Whoopi concluded, that their support of this story didn't mean they supported "designer babies."  She said if you want to change the color of a child's eyes, get them contacts.
The ladies showed a Happy Birthday video for Nicolle starring Julianne Moore, George Stephanopoulos,  Willie Geist, Dana Perino and Dana Bashwished!  Whoopi jokingly said they tried to get Sarah Palin to wish her a Happy Birthday but it was too much of an effort.  Nicolle said, "No thanks."
Whale Tale: They showed an image of a guy texting on a boat while a huge whale surfaced right beside him, but he didn't even notice it.  Rosie P caught herself walking and texting the other day and stopped herself because they have talked so much crap on the show about that very thing.  Whoopi noted that it is dangerous to walk and text because you could be taken out by a taxi or a bicycle.  Rosie O was at the theater last night, Bridget Everett at Joe's Pub and her very good friend (whom she would not name) was on her phone during the performance, even though the starring performance artist had an amazing voice and was performing naked!  Rosie O said she was "totally paying attention," and kept hitting her friend. Whoopi said no one was watching at the last Stevie Wonder concert she went to.  She said everyone had their phone up taking videos of the performance instead of just enjoying it. Cristela loves Billy Joel and saw him at the Hollywood Bowl where many of the people in attendance were busy texting pictures instead of enjoying the show.  Nicolle wondered what the lure is to always be posting things on social media.  Rosie P said people need the validation.  Rosie O believes people put up the lives that they want people to see and it's not always their real life.  "I don't even understand who they are showing it to," answered Nicolle.  Rosie O said she has taken a cell phone away (as punishment) from one of her teenagers (who shall not be named) and found that it also affected her own cell phone use as she now can't text on her own phone during TV shows since her teen doesn't have a phone.  But, she noted, the downside of taking her teen's phone away is it has diminished her capacity to connect during the day with this teenager, which is how they mostly communicated.  She looked straight into the camera and said that she loves this teenager very much and it will all be fine soon.  Whoopi does not answer emails or texts after 6PM, if you want her in the evenings, call her.  That way she doesn't feel she has to take her phone into the bathroom with her!  Nicolle said there is a whole movement right now to clean the phones after the bathroom. Everyone at the table winced.
All the Vegan Ladies: Beyoncé has launched her own line of foods that she and Jay-Z use to lose weight.  It can be delivered to your house for approximately $610 for 20 days.  In the name of science, Nicolle is going to try it and report back.  Whoopi said to her, "If you develop Beyoncé's ass, we all want to know!"
Hair apparent:  A father in  Colorado has gone to beauty school to learn how to style his 3-year-old daughter's hair and graduated at the top of his class!  Whoopi said styling your kids' hair just goes with the territory.  Nicolle thinks it is awesome that he made this special effort.  Whoopi just thinks it is part of the job of being a parent.  Whoopi has a friend who adopted an African child and asked her, "What do I do about the hair?"  Whoopi advised her to pull it back, put it in a poof, and when she is 21 she can get a weave.  Rosie O said that they used to have seminars for hair styling for parents on her R Family cruises because they had so many mixed raced families and the white parents often didn't know how to do their kids' hair.   She said too many of the kids looked like Buckwheat and they had to teach the parents!   Rosie P said in the Latin community, men and women are raised to believe they have different roles.  When she was raising her nephew she taught him how to cook, sew, clean and do her hair!  In turn, she developed an evolved man.  Cristela's family is Mexican, very traditional, and the men are always outside drinking beer and cooking out and while it is the role of the women to take care of the household things.  In order to change traditions like that, she noted, you have to be a pioneer and it is hard to break that mold. Whoopi went to hair school and the thing she noticed was that you didn't learn about different hair textures, which was something she thinks hair stylists need to learn so they can style everybody.  And, she said, if you have a kid, you need to learn how to style their hair.
Cristela Update:  The ABC series Cristela is on Friday nights and she is going to be on an episode of General Hospital on February 13th!  She is going to play a prosecutor who is interrogating a cop because his girlfriend "did some bad stuff."  Also, she is hosting America's Funniest Home Videos on February 15th!
Guests:
Jeff Perry:  Jeff Perry, who plays Cyrus Beene on ABC's Scandal, was interviewed by Nicolle and Whoopi about his role on the series and what it's like to play the Chief of Staff to the President.  Nicolle said Jeff plays the best political character on TV!  They discussed Shonda Rhimes, the show's creator and the brilliance of the show.  ABC's Scandal airs Thursday nights at 9pm EST.
Zosia Mamet:  Zosia Mamet, who plays Shoshana on HBO's Girls, sat down with the ladies to discuss her role on the series.  She was excited to discuss the fact that Girls just got picked up for it's 5th season!  Rosie O wanted to know if she improvises, and Zosia said they do.  When asked about the racy scenes they are often asked to do on the series, Zosia said they really trust the writers to not ask them to do anything that isn't important for their character.  Zosia is also rehearsing for American Psycho Musical set to open this month.  The HBO series Girls airs Sunday nights at 9pm EST.
The closed the show with a birthday cake for Nicolle!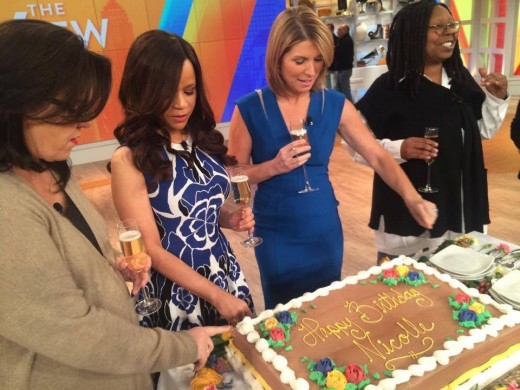 Take a little time and enjoy The View.
written by Kelly Weist
KidRo Productions