Hot Topics:
Anchorman News:  Brian Williams was suspended for six months without pay and Jon Stewart made an announcement that he will be stepping down from The Daily Show sometime this year.  All the ladies expressed how they will miss Jon Stewart.  Rosie O said no one else will be able to host The Daily Show like him and she called him a genius.  She said sometimes she has to Google what he's talking about!  Nicolle appreciated how Jon thanked his team during his announcement.  She said that's the sign of an amazing leader.  And she said Sean Hannity, who doesn't agree with anything Stewart says politically, said that he admires Jon's talent and intelligence.  Nicolle said she can't think of anyone else who gives a voice to the American left like Stewart but also is so admired and respected on the right.  Rosie P doesn't think he's extremely left-wing.  She pointed out that he's had people like Bill O'Reilly on his show and gave a great interview.  And Rosie P loved how he never held back from giving his opinions with both humor and intelligence.  And at the same time, she mentioned the time Jon was dead serious as he discussed issues like the Eric Garner case.  She said, "You could feel his heart."  Whoopi said some consider his show to be a satire show but she said Stewart has the trust of the American people.  She joked that he should be Brian Williams' replacement!  Whoopi thinks all news anchors need to take a step back from opinion-based news and just deliver the news.  Nicolle said there's another NBC news anchor under investigation because of his opinions.  Rosie O thinks this is happening because there's a blur between news and entertainment in our culture and there's nowhere people can just get the straight facts.  Rosie P said Charlie Rose does that very well and Rosie O agreed.
An American Hero: Yesterday, the sad news broke that American aid worker Kayla Mueller was confirmed dead.  Nicolle read an excerpt from Kayla's letter to her parents.   Nicolle highly recommended everyone read her letter because if you're raising kids, she said, this is the type of kid you want to raise.  Whoopi said there are aid workers all over the world in danger every day and all too often we don't hear their stories.  Rosie P said Kayla's friend has come out and said that Kayla didn't just hope for world peace, she believed in help making it happen.  Whoopi said we need to remember there are a lot of wonderful people in this world.
Bruce Jenner's Accident:  It turns out that two other drivers involved in Bruce Jenner's deadly car accident were driving with suspended licenses.  Whoopi wondered why people were so quick to want to make it all Bruce Jenner's fault.  Rosie O thinks it could be partly because of the speculation and misunderstanding about him transitioning.  She said a lot of people are uncomfortable with it.  Rosie O wished there was a way to disable texting once you enter your car because it can be so tempting.  Whoopi said she thinks that's possible now.   Rosie O mentioned a devastating documentary about the dangers of texting and driving entitled From One Second to the Next by Werner Herzog.  You can watch it for FREE HERE.  Nicolle said the road Bruce was driving on is very treacherous and there were also early reports about the paparazzi chasing Jenner, which were found to be untrue.  Nicolle said this case points out the perils of celebrity life and celebrity journalism in Los Angeles.  She said the Jenners and the Kardashians have turned their worlds into a circus by letting their entire lives play out on television.  And she thinks it's tragic.
Watch the film 'From One Second to the Next' below
Eggception to the Rule: The nation's top nutrition advisory panel ruled to drop cholesterol warnings from dietary guidelines saying high cholesterol foods are not a public health concern.  Nicolle's mother has high cholesterol and her uncle died at 50 of heart disease.  She has ridiculously high cholesterol for a "chocoholic-vegetarian" and she said she hasn't touched an egg yolk since she was nine-years-old.  While Nicolle appreciates what they're saying, she still is going to stay away from egg yolks.  Rosie P said we all need some cholesterol in our blood but when you have too much of it, it can clog your arteries and lead to a heart attack.  Rosie P said she too would still hold off from eating a lot of foods with high cholesterol.  They all agreed, "Everything in moderation."
Nobituary:  If you have someone in your life you desperately want to stop smoking you can send them a "Nobituary" from nobituary.com. The website lets you send a life affirming message to someone in your life that you want to stop smoking so you're not writing their obituary soon.  You can go to nobituary.com to find out more!
The Agony of De-Tweet:  Jeb Bush's new tech officer who was under fire for offensive tweets he had written has now been let go.
Private Parts: Sports Illustrated model Hannah Davis is defending her cover shot in the latest issue which many people are calling pornographic.  Rosie P understands why some parents would be upset because it shows a shaved, pubic area.  Nicolle wasn't offended by the picture at all.  Whoopi thinks if the picture is offensive to parents they should turn on the television and just watch commercials!
Mario Cantone:  The adorable Mario Cantone came out with a $100 shop anywhere gift card from RetailMeNot for the entire audience!  It's not too late to save on Valentine's gifts if you download the RetailMeNot app for your smart phone!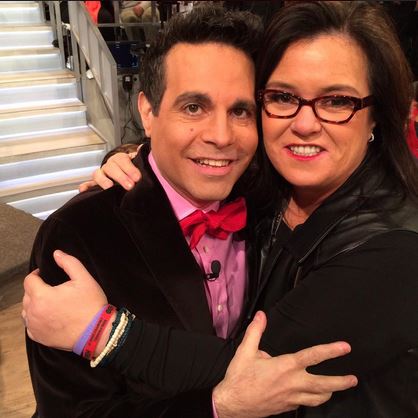 Guests: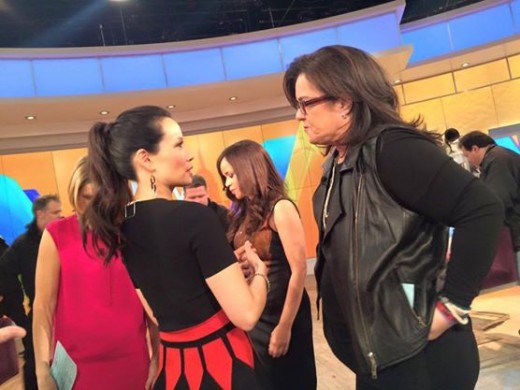 Lucy Lui: Lucy Lui joined the ladies of The View to discuss her role as Dr. Watson on the hit series Elementary.  Lucy is not only starring on Elementary but she directed tomorrow's episode!  They joked about the day they shot the episode at the Bronx Zoo when it snowed like a blizzard!  Lucy's mom also loves this show because it's similar to Columbo, which her mother LOVED unlike Ally McBeal, which she couldn't follow.  Lucy talked about how she's still painting beautiful artwork and how she brings her dog to the set with her every day!  All the ladies thought they should start doing that on the show!  You can catch Lucy on the series Elementary which airs Thursdays at 10/9(c) on CBS.
Crafty U:  A fifteen-year-old entrepreneur and crafter named Shelby came on the show to show off her crafts!  Two weeks ago, Shelby and her mom got tickets to The View.  Shelby tweeted Rosie because she is only 15 and you have to be 16 to sit in the audience.  Rosie told her to lie and just show up!  Shelby goes to Catholic school and she really didn't want to go to confession but she did it anyway.  Shelby and her mom ended up sitting in the front row and she showed Rosie her collection.  Now she's on the show!
Shelby's company is called Yourself Expression and she brought some of her "Snap and Poppers" to show the audience.  Shelby said her jewelry is all about personalizing.  She said YOU get to be the designer of your own jewelry!  They have over 1,000 poppers for everyone; men, women, kids, even dogs!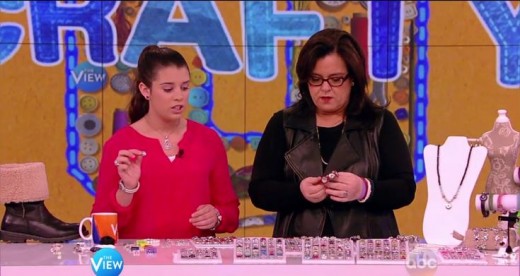 Shelby came up with this business because she wanted a pair of boots but they were very expensive.  The boots had bows on the them and she ended up having to design her own because her mom wouldn't buy them for her.  She started using her own hairbows and personalizing her boots (like Uggs) with charms and bows.  That idea led to the "Snap and Poppers."  In the past 9 months Shelby has made $100,000 and she'd like to be on the show Shark Tank someday! Shelby said she keeps all the items she sells between $3 and $22 because she wants everyone to be able to afford beautiful jewelry.  You can purchase Shelby's jewelry online at YourselfExpression.com.  And if you enter the code "theview" you'll get 15% off!
Marcus Scribner:  Actor Marcus Scribner, from the hit show Blackish came to see the show today as a viewer so they brought him up on stage as a guest!  Marcus has been acting for 8 years but this is his first big role.  He's a freshman in high school who is now being homeschooled because of the show, which he really likes.  He loves working with Laurence Fishburne too whom he said is always giving them career advice.  Marcus' father, who is very supportive, was also in the audience.  Marcus said he hopes to go to Stanford someday and major in journalism.  Rosie O joked there's a job opening on NBC News!
Audience Giveaway: Everyone in the studio audience went home with a $100 "shop anywhere gift card" from RetailMeNot and a free bracelet from YourselfExpression.com!
Take a little time to enjoy The View.
written by Kelly Weist
KidRo Productions